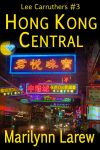 Publisher: Artemis Hunter Press (2017)
Buy the book now at:

Amazon
Author's Website
Former CIA agent and all around badass, Lee Carruthers, returns for the thrilling third book in the series, Hong Kong Central by Marilynn Larew.
Lee is looking forward to some well-earned downtime, so when her ex-boss and mentor, Sidney Worthington calls with another job, Lee is not amused. During her previous mission, people tried to kill her—multiple times. All she really wants right now is some serious R&R. However, she is the gal who will never say "no" to a job. And besides, Worthington swears it's an easy gig.
Easy sounds nice. So, our heroine jets off to Hong Kong to track down Henry Wong, an antique dealer who missed a routine weekly check-in for the first time in twenty years. What could possibly be easier?
Once Lee arrives, she sets out to locate Wong Antiques and its proprietor, Henry. Ever the professional finder, she arrives at the antique shop just in time and witnesses Henry's kidnapping. Lee "borrows" a random motorcycle (she's not shy about bending a law or two when necessary) and the chase is on, ending when the bad guys dump Henry inside a bar run by a notorious Triad. This initiates a string unfortunate events for Lee.
In no time at all, Lee is caught up in a battle between the police and pro-democracy demonstrators. The police pursue the demonstrators with tear gas and arrest as many of them as they can get their hands on, including our heroine – Lee. The pièce de résistance: while in jail, Lee is doused with vomit, thanks to one of her cellmates. The end of a perfect day—said no one.
Once Lee is released, her mission becomes even more tangled by labyrinthine layers of deception and obfuscation. She must kick her badassery into gear to complete the mission and stay alive. So much for a simple job.
The character of Lee Carruthers is well-crafted, compelling, and believable. She knows what she wants and when she wants it – and especially when she doesn't. She can dazzle her prey by wearing a sexy black dress, tote a pistol in her clutch, or sport blue jeans and running shoes to investigate a suspicious event. Readers who loved Lee Carruthers in The Spider Catchers and Dead in Dubai will love her even more now. Readers who are new to Larew's series are in for a fabulously thrilling, nail-biting, page-turning, edge-of-their seats ride.
Marilynn Larew's writing style is smooth, engaging, and well-paced. Her ability to craft vibrant settings against the backdrop of exotic and gritty Hong Kong is exceptionally well-delivered. To sum it all up, Hong Kong Central is an absolute win.
Reviewer's Notes:
How was the writing? Excellent. The author crafts a solid story layered with interesting characters moving in and around the exotic, politically sensitive, and criminal underworld of Hong Kong. Her ability to create intriguing, believable scenes with succinct, eloquent prose is outstanding.
Is there any sex? Yes, but it's not graphic and works to reveal Lee's attitude towards short and long-term relationships.
Is there any violence? Yes, but it is not disproportionally graphic and is necessary to reveal the possible dangers facing the lead character.
How is the book narrated? First-Person.
Which tense is the book? Past.
What's the mood? Tense, colorful, and mysterious.
*Fans may purchase Hong Kong Central from the following retailers: Amazon, Barnes & Nobles, Kobo, and Apple iTunes