Listen to or download this article: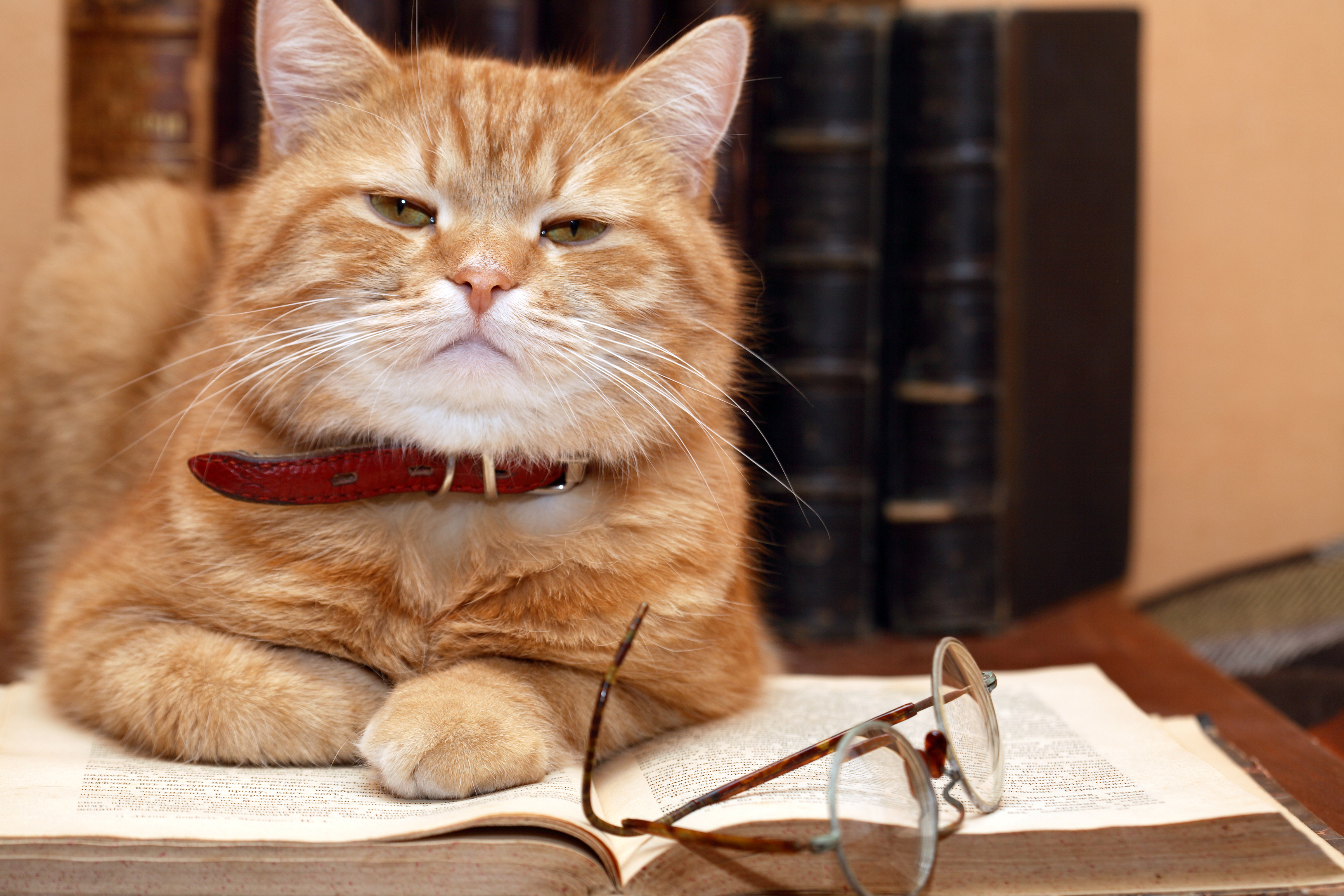 It's not as hard as you think…
Why do you want to post reviews on your book's Amazon page in the Editorial Reviews section?
Kiffer Brown chimes in here:
It is well-known and believed that part of Amazon's secret sauce search algorithm crawls the Editorial section of each book's Amazon page. It is believed that the more individual blurbs attributed from different sources, the better.  Be sure to leave a blank line between review blurbs along with giving attribution to the reviewer will attract the notice of the "crawler" program.
 And having review blurbs in the Editorial Reviews section gives your title a certain cachet and panache that will separate it from the other books (read millions) that do not have them.
Editorial reviews help to garner more "consumer reviews" (reader reviews). They do this because they give readers the language to discuss your book and reaffirms the readers' opinion. This is why traditional publishers spend a lot of time, effort, and money on getting reviews for pre-released books.
It's a numbers game.
To get on Amazon's radar, even more, your title will need at least 100 consumer reviews. Notice I didn't say one hundred 5-starred reviews. It is the quantity that counts here. And the more mixed the better.
Why do you want your title to get on Amazon's "good books radar?" 
When a reader does a search on Amazon for a particular genre to read, Amazon "ranks" which books will be shown to the searcher (reader) as a potential selection that he or she might want to purchase. And Amazon is in the business of selling things (consumer goods). Books for "the Trade" (genre fiction) are consumer goods.
Now back to Sharon Anderson…
Most authors sell their books on Amazon.com because that's where a fair share of the reading public goes to purchase their books. If an author has worked hard at conditioning their audience – or if enough people have read an author's work, soon reviews will be added. Good or bad.
Sidenote: We all like good reviews, right? I mean, who doesn't? But bad reviews can be just as helpful. Believe it or not, bad reviews (1-2 stars) are instructive. They will tell you about formatting issues, grammar issues, plot failures and more. Pay attention to them! Besides, if all you have are 5-star reviews – well, that's a little unbelievable.  
Back to our topic…
That's all well and good, however, what do you do with your Chanticleer Editorial Review?
Update 3/20/2020: We just noted that we have not updated this paragraph. Our apologies. Kiffer:  We are no longer allowed to post our reviews on Amazon since summer 2018 or so. It is Amazon's policy not ours –even though Amazon ranked us highly and gave us special recognition. <<We will post the entire review on your book's Amazon page Consumer Reviews>>
But there IS something that only you can do and that is to post a blurb of it in the Editorial Reviews section.
Posting Your Chanticleer Book Review to the Editorial Review Section
You cannot do this from Amazon.com. You first have to log in to your Author Central account.
You do have a fully functional Amazon Author Central account—don't you. 
If not, start here: 
https://authorcentral.amazon.com/gp/help?topicID=200620850
Back to posting a review blurb in the Editorial section on your title's Amazon page…
The welcoming page should look like this:

Click on Books:

Your books will pop up and the screen should look something like this:

Click on the book you wish to add a Chanticleer Review to: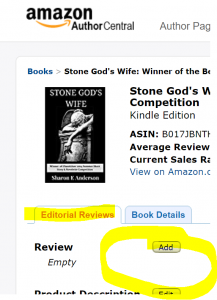 Hit the "add" button and place the Chanticleer quote you wish to use. Preview it, and if it looks good, click on "save changes."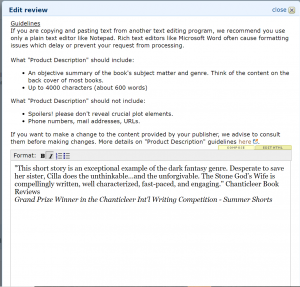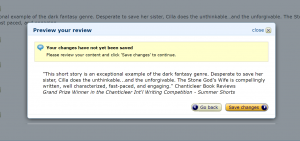 In a few days, you will see the Chanticleer quote appear under the Editorial Reviews section on your book's Amazon.com page.
Another chime in from Kiffer:
For a professional look, do not post the entire review. A well-selected blurb will do nicely. Be sure to use ellipses if you are taking a section out. And always give attribution!
Example:
…Readers who are new to Larew's series are in for a fabulously thrilling, nail-biting, page-turning, edge-of-their seats ride. Marilynn Larew's writing style is smooth, engaging, and well-paced. Her ability to craft vibrant settings against the backdrop of exotic and gritty Hong Kong is exceptionally well-delivered. To sum it all up, Hong Kong Central is an absolute win. —Chanticleer Book Reviews
Easy, right?
Please use the comment section – we want to hear from you!