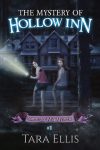 Publisher: Tara Ellis Publications; 3rd edition (2014)
Buy the book now at:

Amazon
Author's Website
A summer vacation turns sinister for two tweeny girls far away from home.
Twelve-year-old Samantha (Sam) Wolf and her best friend Alyson (Ally) Parker leave their home state of Washington vacation two weeks in Montana where Sam's aunt and uncle have turned an old mansion into a hotel called Hollow Inn, after the family that once lived there. While things look pretty good initially, the girls learn from the staff that the place is haunted. Moreover, business is suffering since the last guests abruptly left claiming someone else was in their room – a ghost! Now, Sam's aunt and uncle must deal with negative rumors and targeted vandalism.
Sam doesn't fall immediately into the trap of believing the mansion is haunted. Being a natural investigator, Sam happily delves into the Hollow family journal found in the attic. Her hope is to find answers, to separate fact from fiction where the Hollow family history is concerned, and find a way to boost her uncle and aunt's business.
While Sam's intentions are good, situations become challenging and downright frightening when a dark presence appears in her room during her first night at the inn. The next day, the girls take a little boat out on the lake and panic when the boat mysteriously overturns. More determined than ever, Sam and Ally begin snooping around the estate in earnest to get to the bottom of the strange occurrences. Their investigation pays off when they discover a secret passageway. Little do they know, however, that their find will point them down a dangerous path.
Ellis' The Mystery at Hollow Inn, the first book in the Samantha Wolf Mysteries is a well-written work, filled with engaging dialogue, plenty of twists and turns, and chapter cliffhangers that champions a confident, inquisitive young girl and her friend.
Reminiscent of Nancy Drew, Samantha (Sam) Wolf is a relatable, well-crafted character that young readers will enjoy getting to know. Level-headed, smart, and focused, Ellis' newest heroine can consider any situation that comes her way without allowing her emotions to taint her decisions. She's also exceptionally curious, an asset that lands her in hot water time and time again.
Working with a small and relatively harmless-looking cast, Ellis keeps her antagonists under wraps while sprinkling red herrings and false leads throughout the narrative; and while clues (lightly laced with twists) are given, it's a who-dun-it to the very end.
Make room on your bookshelf next to Nancy Drew! Here comes a new series perfect for today's young mystery fan. Samantha Wolf tackles ghosts, vandals, and a creepy sense that someone or something is watching her every move!
Reviewer's Notes:
How was the writing? (very good style, minimal errors)
Is there any sex? (none)
Is there any violence? (very low- age appropriate)
How is the book narrated? (third-person POV)
Which tense is the book? (largely present tense)
What's the mood? (a classic Middle-Grade mystery that consistently builds tension)