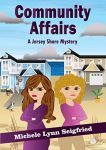 Publisher: Horseshoe Bay Publishing; 1 edition (2015)
Buy the book now at:

Amazon
Author's Website
Bonnie Frattori, the heroine of Michele Lynn Seigfried's latest Jersey Shore installment, has it all: a handsome neurosurgeon husband, two lovely little girls, and a big house right on the beach. Things couldn't be peachier—until Lemon Face moves in next door.
Lyla (aka Lemon Face) and her husband, Senator Cason Spratt, are the neighbors from hell. Before they even settle in, Bonnie overhears Lyla accusing Cason of dropping his trousers in all the wrong places. It soon becomes apparent that Lyla is consumed with jealousy and sure Cason is after anything in a skirt.
Seeing that her own natural, innocent tendency to flirt bugs Lyla, and having gotten on the wrong side of her new neighbor's temper without even trying, Bonnie goads Lemon Face on by humorously pretending she's planning an affair with Cason. It isn't long before Bonnie's adoring spouse begins to suspect it's true and stomps out in a rage. Poor Bonnie is left alone to deal with the increasingly insane, enraged Lemon Face who sends over poop bombs, paints WHORE on Bonnie's garage door, and makes sure everyone in the community knows what a home-wrecker she is. See how quickly playing games can get you into trouble?
The book begins, though, on a far more sinister note with Bonnie sitting in a dank cell, with no memory of how she got there. She hears another woman's screams through the walls. As Bonnie scours her memories of the past few weeks before she wound up in this terrifying situation, she recalls how she and her friend Chelsey, a private investigator, tried to find some connection between Lyla, Cason, and a girl named Polly Pitcher whose disappearance has the community in an uproar. Digging ever deeper, even neglecting her new job as a Municipal Clerk to hunt for dirt on Lyla and her philandering senator husband, Bonnie makes herself the target of thugs who will not stop at threats, but plan to murder her and the woman in the next cell. Flashbacks from Bonnie's captivity to her attempts to ferret out the truth about her neighbors and restore peace on her little piece of the Jersey Shore make for moments both hilarious and harrowing.
Author Michele Seigfried has created Bonnie from a knowledgeable perspective, as she herself has worked as a Municipal Clerk in the State of New Jersey. Her up-close look at life behind the scenes in a local government office rings true. Chelsey, Bonnie, and others are recurring characters in this third of the Shore mystery series.
Seigfried knows how to cook up a multi-flavored stew with lots of surprise ingredients. Despite the imminent threat, her charmingly conceived heroine has more than her fair share of attitude and keeps comedy constantly on the boil.
A whodunit played for laughs as well as suspense, Community Affairs runs the gamut from gossip to greed to gore when neighbors clash on the posh Jersey Shore.
"Bonnie Frattori's hijinx land her and her marriage in peril as she digs up dirt on her new neighbor. Cozy Mystery fans unite for Michele Seigfried's 3rd book in The Jersey Shores Series: Community Affairs, a mystery with plenty of twists and turns staring a heroine with a penchant for designer shoes and trouble!"  – Chanticleer Reviews