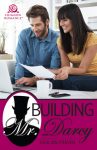 Publisher: Crimson Romance (2016)
Buy the book now at:

Amazon
Author's Website
Two software developers, Max Taggart and Zoe Bunsen, want to create the perfect artificially intelligent companion. Zycorp needs this project to be successful, or their floundering AI department will be dissolved; however, while Max is a man with a plan, Zoe is a woman with a serious book crush on the character chosen to embody their AI.
Zoe has grown up loving Mr. Darcy, the hero in Jane Austen's Pride and Prejudice. From their chance meeting to their continuous jostling for power, Max and Zoe find working together almost impossible. While Zoe wants a Darcy with human-like reactions, Max wants a finished product ready for release by the deadline. Their constant bickering coupled with their shared office creates the perfect tension for romance. But finding the balance in Mr. Darcy and the balance in their own personal lives may be more than these two can handle.
From Max and Zoe's chivalrous first meeting to their conflicting personalities, Building Mr. Darcy has the feel of a modern retelling of Pride and Prejudice. Like her counterpoint Elizabeth Bennet, Zoe is a smart woman in a man's world. Her free-thinking spirit may be perfect for software development, but her gender makes it difficult for her to succeed in Zycorp where schedules and deadlines keep getting in her way. Her Pygmalion need to create an almost "boyfriend-like" interaction with Darcy arises from her completely disastrous love life, and while her neediness differs from the original feel of Elizabeth Bennet, it helps set Zoe apart from her metafictional doppelganger and give her a slice of her own personality.
Max has the same no-nonsense attitude of Fitzwilliam Darcy, but he is far removed from the affluently born romantic heartthrob of generations of women. Max is a self-made man with a sketchy family. However, the issues of the original novel, love, friends, family obligations, and subtle human interactions, remain the central focus of this novel. These complete opposites with their ever-present Darcy/Elizabeth arguments and eventual character growth harken back to the well-loved, dog-eared classic that makes their relationship so timeless.
Irish-born award-winning romance author Ashlinn Craven lives in the shadow of the Alps writing stories about real-life heroes and heroines, people with actual jobs and paychecks. In Craven's novels, the world doesn't stop just because two people fall in love. With their trademark touch of geekiness, these novels are heartfelt, uplifting, and realistic.