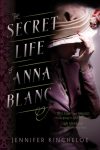 Publisher: Seventh Street Books (2015)
Buy the book now at:

Amazon
Author's Website
An intractable and pampered debutante with plenty of pluck turns detective in Jennifer Kincheloe's award-winning debut The Secret Life of Anna Blanc.
The year is 1907 in Los Angeles. Anna Blanc may be privileged and beautiful, but the one thing she lacks is freedom. Escaping from her possessive father is more difficult than she thinks since she keeps getting caught in humiliating circumstances, which only taints her social status. Regardless, Anna has a mind of her own and determines to get involved in one area that is entirely unladylike: police work.
Finding an ad in a local paper, Anna finagles her way into an assistant matron position at the LAPD. While on her first assignment at a local brothel, Anna overhears a conversation between of a police officer and a coroner as they examine the corpse of a prostitute. Although the men rule the young woman's death a suicide, Anna is convinced that the cause of death is murder, especially when she learns that the harlot's death is just one in a string of murders.
Anna commences undercover investigations, which she keeps under tight wraps. In the meantime, the LAPD sets up a sting operation to catch a rape fiend. Anna volunteers, working alongside the handsome but unpredictable Joe Singer. While romance seems to brew between the unlikely pair, Anna's father makes plans for her to marry a wealthy banker, Edgar Wright. Amid the strange love triangle, Anna hopes to nab both the rape fiend and prostitute murderer. Whether or not she can convince the LAPD of her sleuthing capabilities before another murder occurs remains to be seen.
Kincheloe does a killer job keeping her audience hooked from one page to the next as her protagonist heroine whose insular life evolves as she faces perils of one kind or other. Kincheloe's highly-developed cast includes only a handful of supporting characters while the bulk of her cast is made up of colorful foils and red herrings, coming in every shape, size, sex, and demeanor imaginable that befits an early 20th-century setting.
Tight sentence structures dripping with rich metaphorical descriptions and hyperbole laced with sarcasm, wit, and humor grace the pages of this award-winning debut novel. Scenes heavily peppered with romantic tension, sexual innuendoes, replete with unremitting twists and turns shift between characters resulting in a mighty fine read.
A top-rate novel "inspired by police matron Alice Stebbins Wells, who in 1910 became the first woman police officer in Los Angeles," The Secret of Anna Blanc has all the elements of going beyond the bookshelf and onto the Silver Screen.