Listen to or download this article: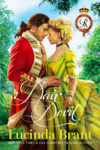 Publisher: Sprigleaf (2014)
Buy the book now at:

Amazon
Author's Website
Alisdair "Dair" Fitzstuart, spy and war hero, wants to enjoy a carefree life now that his service to his country is over. After spending years creating the daredevil reputation that has earned him fame beyond his heroic war efforts, he's eager to return to the London town life, sample the season's beauties, and carouse with his lifelong friends, but when his latest escapade literally throws him into the arms of Rory Talbot, his plans are turned upside down.
Rory, the granddaughter of England's Spymaster, enjoys her quiet existence cultivating pineapples and spending time with her grandfather. Because of a crippling birth defect, she's spent her entire life on the sidelines, secretly falling in love with the handsome Major Fitzstuart, who happens to be her brother's closest friend. She never expects Dair to notice her, but after their chance meeting at the beginning of the novel, Dair can't seem to get the beauty off his mind. However, his womanizing past complete with an illegitimate son, has everyone, including Rory, questioning Dair's sincerity. The two must battle the odds if they dare to have a future together.
With a complicated storyline and abundance of character-rich scenes, Lucinda Brandt delivers in Dair Devil another volume of the Roxon Family Saga. For those unfamiliar with Brandt's brand of historical romance, this is not a frivolous read. The narration and dialogues are lengthy and complex, the weaving storyline on top of storyline in a masterful fashion, therefore we strongly recommend starting with the first novel in the series, Midnight Marriage, and move on from there. Those who are familiar with Brandt's work will submerge themselves in the interweaving storyline and swoon to Alex Wyndham's voice as he narrates series.
Both Rory and Dair break the typical romance novel mold. Rory's physical disability is a refreshing change to the typical perfection of the romance heroine. Though still feisty and spunky, Rory's life is far from the easy existence of the regular heroine; however, her issues don't hold her back. Rory's never allows her physical problems to stand in the way of whatever she wants to accomplish, creating an inspirational protagonist, which is uncommon in the traditional romance novel.
Dair challenges the romance norm as well: he has an illegitimate son, not uncommon in the Georgian time period, but unusual for the heartthrob of this genre. Though typically seen as the hunky bad boy, heroes of romance novels don't often have illegitimate children, much less a child that plays a role in the plot. Dair not only has a son, he shows his fatherly love repeatedly, again testing the tried-and-true conventions of the "normal" historical romance.
Lucinda Brant has created a complex story where strength lies in family, and history is more than a setting. Whether siblings or cousins, these characters rely on their bonds and show that love triumphs despite the odds, and although this theme is not unusual within the genre, Brant's use of familial bonds saturates the plot and creates a web of stories to delight readers of romantic fiction.