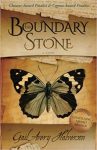 Publisher: Knight Wenstrom Publishers; 1 edition (2015)
Buy the book now at:

Amazon
Author's Website
Catherine Abbott has everything a young lady of quality could wish for in England, 1660's. She lives on her father's comfortable estate in the village of Wells, Buckinghamshire and she's soon to be wed to Miles Houghton, a childhood friend recently returned from several years in France. For Miles, the wedding is just the ticket to free him from his rather large gambling debt. His heart isn't in it, though, as he still yearns for the Parisian nightlife.
However, Catherine has had an interest in science, books, and "the mysteries of this world" that inspires her to make complex drawings of butterflies and track the constellations in the night skies. Can she be happy as an idle wife? When she meets Simon, a young doctor who has been assigned to care for her aging, gout-ridden father, she begins to dream of a different future, impossible, she understands, but she still can dream, right?
Then the Black Plague strikes England. Taking orders from Simon whom he has grown to respect, Lord Abbott orders the village of Wells to be quarantined and ships Catherine's brother Charles off to the colonies. Miles, unwilling to be hemmed in, flees without a word to Catherine, ignoring their planned nuptials. She, who once helped a servant girl in the throes of childbirth, finds a way to assist Simon in treating plague victims. He recognizes Catherine's remarkable medical talents and begins to envision a way he and she might someday make a medical partnership. Or will their relationship go beyond the professional?
Award-winning writer Halverson has given us a character so completely believable, and so empathetic that readers will fall in love with her from the opening scene, when, as a little girl, Catherine sneaks out one night to observe the movements of the stars. We are hooked and are convinced that this heroine is a prodigy who will only find what she seeks in life by breaking the bounds of convention. Drawing on events of the time, such as England's trade with India, the colonization of America, the controversial issue of autopsies as a means of studying illness, and of course the horrors of the plague itself, Halverson reveals extensive research into the century she writes about. And employing rich idiomatic phrasing and restrained but appropriate accents as needed, she shows her gift for the sound as well as the sense of well-constructed prose. In a short Afterword, the author relates the story of a little English village on which she patterned her fictional Wells, where quarantine did serve to save lives at the time of the Black Plague.
Set against the backdrop of England's Black Plague, one woman bravely challenges the rules of stature and class to find her true love and true calling. Historical romance readers will enjoy curling up with Halverson's first book in The Stockbridge Series and look forward reading the next one.