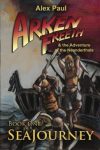 Publisher: AIS, Limited.; 2nd edition (2014)
Buy the book now at:

Amazon
Author's Website
What's more fun than Neanderthals? How about Neanderthals on the high seas? Now that we have your attention…
Author Alex Paul delivers a highly imaginative, middle-grade epic fantasy adventure-packed story with everything you could ever ask for to have a rip-roaring good time.
SeaJourney (Book One) opens with an ancient archive stating that the Arken Freeth, lived 11,000 years prior, before the great flood. It follows that Arken's world is inhabited by saber-toothed tigers and other monstrous beasts—and populated by both humans and Neanderthals.
It's Arken's fourteenth birthday and he's looking forward to graduating from school and going on a sea journey with his classmates. All he needs to do is balance a huge rock on a small point. That sounds easy enough, right? Well, he fails.
The only way he can redeem himself is to combat Gart, a very large, bully of a boy who happens to hate him. Arken wins the skirmish—and more of Gart's wrath in the process. However, both boys will board the Sea Nymph with their classmates to serve their country, Lanth. It turns out that the people of Tolaria (allies of the Lanths) are under attack. Yolanta, King of Tookan, is even now traveling with pirates to hunt down Tolarian Princess Sharmane and steal her magic necklace. The Sea Nymph is readying for war.
Arken meets a girl named Talya, a freckle-faced scout-in-training, who warns Arken that Gart plans to kill him. And when word reaches the Sea Nymph that Princess Sharmane's vessel has been attacked, Arken, who has proved his worth leads the charge against the enemy ship. Somewhere in the middle of all that is happening aboard the Sea Nymph, there's a Neanderthal who is gearing up to join in the fun.
With three other Arken Freeth volumes in production, SeaJourney introduces readers to a worthy hero and reveals some of his secrets and hidden powers. The book is well suited for tweens who identify with the underdog who overcomes hardships and ultimately triumphs. Too, our heroine is not based on her looks so much as her energetic attitude.
With fast-escalating action on every page, a likable, capable hero, plenty of mystery and an abrupt ending, readers will be lining up for more. Arken Freeth and the Adventure of the Neanderthals, SeaJourney #1 is sure to please those who crave fantastical adventures with pirates, underdogs, prehistoric beasts, and Neanderthals!