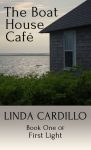 Publisher: Bellastoria Press LLP (2014)
Buy the book now at:

Amazon
Author's Website
Mae Keaney is looking for a way back to her childhood, back to safety, and finds it in a property on Chappaquiddick Island. A wind-tattered cottage and an old boathouse she envisions as a café will be her haven, as long as she can keep her regrets and sorrows hidden.
With determination, she brings her talents as cook and waitress to bear, attracting locals and tourists alike with her hearty sandwiches, delicious cakes, and teas. She has her privacy and her shelter, and that is all she craves – until she meets Tobias, a quiet, kind, dark-skinned fisherman who begins the difficult process of enflaming her cold heart. Tobias is the son of the chief of the island's Wampanoag tribespeople and scurrilous rumors begin to fly about Mae and her lover.
Set during the Second World War years and beyond, The Boathouse Café reminds us of a time when an unwanted pregnancy could ruin a woman for life and prejudice against Native Americans was status quo. These factors affect the star-crossed, inter-cultural relationship between Mae and Tobias, twisting it into a complex carpet of unanswered–and unanswerable–questions. Only strong, sincere, honest love can hold them together to face the storms that will beset them before their union can be secured.
This is a story that breaks through the barriers of race and challenges tradition and social mores for love.
Award-winning writer Cardillo planned out this stunning family saga with extreme care. Though the motivations and histories of her well-constructed characters may be mysterious at first, the author will thoughtfully tie up every thread as the story progresses. Her setting, a tiny dot of land hanging out in the Atlantic Ocean, subject to torments of both harsh weather and human weakness, gives the tale great power, somehow presenting more potential for drama than similar yarns spun on safe, dry land. When a fire rages on Mae's property or a vindictive enemy vandalizes her cozy home, there will be people on "Chappy" who value the land and the traditions of the island and will step in to help and widen the circle of Mae's support. The island, in Cardillo's skilled hands, becomes not just an enthralling environment but a shared ethos.
Ultimately, this beautifully written, passionate, page-turning adventure of a blended family history and a romance of grand proportions will have readers yearning to continue the series with The Uneven Road and Island Legacy.