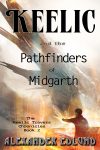 Publisher: Landstrider Press (2018)
Buy the book now at:

Amazon
Author's Website
When it comes to high-adventure Science Fiction, why should adults have all the fun?  Alexander Edlund's novel, Keelic and the Pathfinders of Midgarth proves that younger readers want in on the action.
Twelve-year-old Keelic Travers has adults all around him dropping their jaws because he has just defeated the evil pirate Jaw Take-ta-Kua in battle and taken possession of the outlaw's ancient battleship. In doing so, he rescues his parents from Jaw's clutches, reversing the traditional scenario of parents protecting their child. Surely all the survivors of this recent war are eternally grateful to Keelic and will follow his every order?
Well, no.
Imagine how his parents and most of the other adults feel about taking orders from a 12-year-old, even one who can pilot a starship. While Keelic does his best to present a mature and confident facade, the reader witnesses his private moments of self-doubt, nightmares, and even adolescent jealousy when Leesol, a lovely and intelligent girl, converses with other boys. He may only be twelve, but Keelic is already struggling to balance the responsibilities of his professional life with the challenges of adolescence.
Plot and characterization fit nicely together in this novel as Keelic decides he wants to train to be a Pathfinder, a member of a highly elite team of people who explore the galaxy. To become a Pathfinder requires an extensive study with a curriculum of topics such as route finding, alliance and negotiation, threat identification range, vector speeds and energy signatures, as well as astrophysics, and planetary geophysics, among other subjects. This schooling gives Keelic a chance to interact with classmates close to his age, including a pair of twins who offer comic relief from time to time. The group, known as Keelic's "Complement" engages in challenging and exhausting training that will test them individually and as a team. While the Pathfinders-in-training learn to trust one another implicitly, Keelic has another plan in mind.
It's a dynamic of good versus evil with a bit of David and Goliath thrown into the mix. And while Keelic doesn't have a slingshot, he does have the intelligence and battle skills needed to consider slaying the most destructive menace in space.
To Edlund's great credit, the dazzling technology of the future is believable and inspires awe with prose that often merges the empiricism of science with the ethereal mysteries of space, resulting in beautiful, resonating language.
Keelic and the Pathfinders of Midgarth will appeal to a broad age range of readers – in much the same manner as the Harry Potter series continues to capture the attention of all.
And while Keelic and Harry may be growing up in vastly different places, they both begin as adolescents who realize special gifts and undertake an atypical education to develop and hone those gifts. If Keelic and his classmates found themselves at Hogwarts instead of the Pathfinder Academy, they likely would have fit right in with the other brave and loyal Gryffindors. Star Wars and Star Trek enthusiasts, as well, won't want to miss this book or any others in The Keelic Travers Chronicles.
Luckily, outer space is large enough to fit every single fan.
A futuristic Y/A Science Fiction pick that will capture readers' imaginations and entertain them for years to come. Keelic and the Pathfinders of Midgarth belongs in the hands of those who yearn for a great read with enchanting lands, fantastical adventures and a hero with a lot of heart.