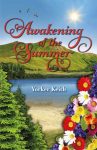 Publisher: BookBaby; 1 edition (2018)
Buy the book now at:

Amazon
When the stress of Manhattan Wall Street builds, James Hensley retreats to the solace of the wood at Oberon Woods, New Hampshire for a two-week respite. He's hoping to shake off the responsibilities of his job as a financial market forecaster and find some peace and quiet indulging his private passion for painting. The rat race of the city has been replaced with fresh air, pastoral scenery, and inspiration. As he works to bring the setting to life on the canvas, his co-workers teasing words ring in his ears – something about having a summer romance amidst the beauty of woods and water. He shuts out that thought and continues with his paints.
As if on cue, the Burnett sisters arrive and James' plans for an uneventful sojourn in the country take a turn. The older sister, Sophie, is a brunette beauty, sensitive, quiet, a reader and writer of poetry. She often carries an anthology of Emily Dickinson's poetry with her.
In contrast, younger sister Kelly is a vivacious blond, chatty and flirtatious, the yang to her sister's yin. The sisters are well-educated and affluent, living in their parents' co-op on Park Avenue. Sophie works as the editor of a law review journal and Kelly does secretarial work at the Metropolitan Museum of Art. Neither job pays well, but that's of little consequence because there's plenty of family money.
Of course, James can't help but notice the sisters – and he soon learns they have boyfriends. Sophie is dating a Harvard Law School grad who works in mergers and acquisitions, and Kelly is dating a wealthy socialite boy who loves to party. So much for a summer romance.
Looks can be deceiving, though, and soon it becomes clear that the sisters' romantic entanglements are far from perfect. Before his two-week vacation is finished, James will be attracted to both sisters. He paints them, and by doing so discovers the truth about himself.
This is a very romantic, seductively charming novel that celebrates nature and affirms the therapeutic value of nature. Here, author Yorker Keith gifts us with alluring, enchanting prose. We inhale crisp mountain air and easily envision Keith's Arcadian wonderland. The novel includes several poems of Emily Dickinson's as well as Sophie's original poetry. The selections are perfect prose accompaniments for romance blooming in a resplendent countryside. Keith, in many ways, has "painted" this novel; it remains in the reader's mind as a series of scenes rendered with the patient and astute eye of an artist.
"One man escapes to the quiet of the Oberon Woods only to be seduced by two young women of exceptional quality; as he paints each stunning beauty, he discovers more about himself and learns to trust his heart in Yorker Keith's latest literary romantic novel." – Chanticleer Reviews
"Seductively charming and romantic literary novel set in an Arcadian wonderland." – Chanticleer Reviews
Writing:  Excellent
Sex: Love-making scenes, nothing graphic
Violence:  One scene involves gun violence
Narration:  Third Person
Tense: Past
Mood:  Romantic