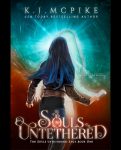 Publisher: Amazon Digital Services LLC (2015)
Buy the book now at:

Amazon
Author's Website
Lali Yavari has her hands full. She's the oldest of five siblings, a bright, sensitive daughter of a scientist (her father) and a loving mother. Except, her mother up and abandoned the family leaving only a cryptic note behind. And now Lali's having strange visions of things and people she does not know coupled with the disturbing ability to astral project her consciousness to another place—another dark and beautiful place.
Imagine her surprise when one of the people from her visions shows up as the new kid (#hottie_alert) at school! The surrounding cast includes her boy-crazy best friend, Paisley (and Paisley's new annoying side-kick), and Nelson, a buddy Lali has grown up with since pre-school. Just to be clear: Nelson is not fond of NewBoy, Kai. In fact, Nelson is downright irritated over all the attention Lali is suddenly giving to the new boy. But Kai's arrival at school is no accident. He knows more about Lali than she does—why she's having visions and, perhaps more importantly, what the visions mean. He may even be able to help Lali decipher her mother's note, thus solving the puzzle of her whereabouts.
But his assistance comes with a price. Kai's baby sister also disappeared shortly after she was born, and Kai wants Lali to find her. Kai knows something no one else does: Lali is the only person who can astral project to the alternate reality of Alea.
Alea is filled with thick white trees and grass that's red and yellow. Beautiful or not, Lali soon learns that Alea is a dangerous place whose citizens are watched by a controlling government with a police force known as the "Eyes and Ears." Could this surveillance operation have something to do with Lali's mother's disappearance? If so, what has her mother done to earn their wrath—and how is her mother connected to Alea in the first place? Past and current events collide in a deeply suspenseful narrative that will have readers turning page after page to determine which characters are good and which are evil. Fittingly, Lali's brothers and sisters get in on the action and the adventure ramps up in nail-biting intensity.
McPike gives us a strong family full of teasing, quarreling and sarcasm, yet indisputable evidence of a deep and abiding trust between brothers and sisters alike. The dialogue is fast-paced, witty, and wholly believable throughout the book. Here we have a splendid contemporary metaphysical young adult novel that deserves a place alongside our beloved Ursala Le Quin.
Souls Untethered is the story of an endearing, resourceful teenager who will stop at nothing to reunite her family.
*Note: Souls Untethered original title, Xodus, won first place in the 2016 Dante Rossetti Awards for Paranormal Y/A Fiction.
Writing: Excellent
Sex: None
Violence: Some physical combat, nothing graphic
Narration: Prologue is in 3rd person; the main novel is in 1st person; Epilogue is in 3rd
Tense: Past
Mood: Suspenseful with comedic moments