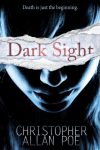 Publisher: Black Opal Books (2014)
Buy the book now at:

Amazon
A strong-willed, gutsy teenager, Monique is one of two African American students in her white, uppity high school. Victoria, Monique's white bestie since Kindergarten, may come from wealthy means, but her life is riddled with her own set of familial issues. All in all, the girls get along like sisters. They attend rally revival at Awakeners, a cult compound, and an argument ensues, leading to a car accident that leaves Victoria comatose and on life support. Ethan, the cult group's son, gives Monique a talisman-looking necklace, which she uses to spark Victoria back to life.
Victoria, who is an artist savant, may be riddled with quirks, but her resurrection proves differently: she is not herself, especially when she feeds off the critters in the neighborhood. Based on "the new Victoria," her friends deduce Victoria now bears the characteristics of a psychic vampire, or in layman's terms—an energy-sucker.
Monique believes there's a connection between Victoria's altered condition and the cult group and seeks out Ethan for answers. Ethan responds with enough chilling information to indicate that Victoria's life may be in danger. The only problem is, Victoria doesn't see it that way—at all. To her, dead is just the beginning.
Rising paranormal author Christopher Allan Poe spins a wickedly twisted tale in his YA horror novel. Front and center of his tightly knit and well-rounded cast is a middle-class gal with plenty of moxie.
Besides creating a host of colorful characters—many of which are teens, Poe is a superb raconteur. He not only has a firm handle on defining his characters but also relaying a chilling tale. Poe's writing style, which is both crisp and punchy, provides him the opportunity to state what he has to say, and at the same time suggestively highlight the plight of women, children, and racism.
Edgy dialogue scenes are the driving force behind Poe's non-stop tension-filled chapters. Scenes are replete with a continual string of twists and turns, teen angst, and sexual lust. Poe provides light relief with Monique's waggish tongue-in-cheek comments, as well as her sexually-laced similes and metaphors punctuated with infamous factual and fictional figures (i.e., Caligula, Jason Voorhees) and horror movies (i.e., Nightmare on Elm Street, Dark City).
Offering high appeal for YA and adult audiences, Dark Sight is a first-rate paranormal thriller with enormous Silver Screen potential.