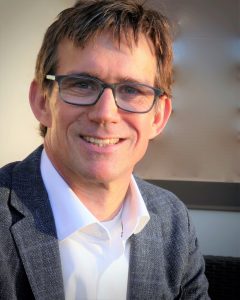 Meet Paul Aertker, 2017 Grand Prize Winner in the
Chanticleer Gertrude Warner Awards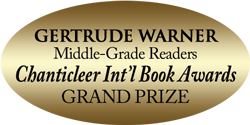 I first met Paul Aertker when we were in Portland Oregon last year. My first impression: Dynamic, Intelligent, Generous. In short, I am so glad we met! When I found out he was coming to our Chanticleer Authors Conference, CAC18, and that he was indeed in the running for an award – I was thrilled.
Paul is an amazing human being – but don't take my word for it! Find out for yourself! Read on and be sure to comment at the end – and share if you like.
Chanticleer: Paul, tell us, how did you start writing?
Aertker: I started writing on September 12th—the day after 9/11. I guess I saw what the world had become or rather, what adults were capable of doing, and I thought maybe I should focus on kids and maybe kids could make things better. So that's how I got started writing.
Chanticleer: That's amazing, Paul. Thank you for taking action in this way. What led you to the middle-grade crowd? 
Aertker: I write middle-grade books mostly because I act like an 11-year-old. No, but seriously, I do. I enjoy working with and writing for the middle grades for several reasons. Nine to twelve-year-olds are at a perfect stage in life—before the challenging ages of young adult, yet they are still old enough to understand what's going on in the world, and most importantly, they get my jokes!
Chanticleer: You're right! What inspired you to write this particular series, The Crime Travelers? I hear, by the way, that this series is doing quite well…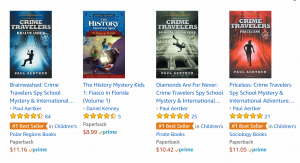 Aertker: I think most everything I write is about travel. The Crime Travelers series is about international action adventure—"like the Bourne Identity but for kids." What's more, this new book Posthumous is about an American family in Paris, and the mother dies, and the dad and daughter move back to the US. I think of travel as a catalyst for writing, a means of generating ideas mostly because I see reading and writing as a form of travel.
Chanticleer: Oh, good answer! Reading is the best form of escapism. Give us five authors whom you would love to meet on your travels – and tell us how they have influenced your work.
Aertker: What I've done is a little different from most children's book writers. I love Roald Dahl and Margaret Peterson Haddix and Rick Riordan and Gordon Korman and the rest. However, most of my influence comes from the adult authors who write international and action adventure novels—specifically, James Patterson, Robert Ludlum, Lee Child, John Grisham, etc. I like these guys, and I like their work. In the Crime Travelers series, I bring the action and adventure of adult novels into the kid world.
Chanticleer: I think Middle-Grader readers are ready for these books. Look at their video games! Tell us a little about areas of writing you feel most confident in – and what advice you can give someone who is struggling in this area. 
Aertker: I've gotten much better at getting the words on the page. I used to struggle to create a lot of volume of pages.  But, I have a trick that has helped me. I think we all struggle with the internal critic telling us that we are not good enough or whatever we've done is terrible. We all have this. Sometimes I find that I cannot sleep so instead of tossing and turning, I will get up, put on my glasses, and sit at my desk. I'll write in the middle of the night for hours. And what I've learned is that my internal critic doesn't get up with me! He's too tired to criticize. So I write for a while and then go back to sleep. In the morning I wake up and notice that someone has written in my document! Yes, sure it needs work, but editing seems to be easier than cranking out the first draft.
Chanticleer: Good advice – If your inner critic is too loud, wait until it passes out, and then write. So, I hear you sell a lot of books… Which business books have helped you the most?
Aertker: I think one of the best business books for writers is Tim Ferriss's 4-Hour Work Week. We all know that we will not work just four hours a week. Writing has no end. We know this. What I took from this book was that it's important to delegate tasks. You need to hire an excellent cover designer, and you need a good interior designer for your book… You also need a developmental editor, a copy editor, and a proofing editor. Then you need to assemble a team of beta readers. And, and, and. The point being: ask (or hire) others to help.
Chanticeer: What do you do in your community to improve/promote literacy?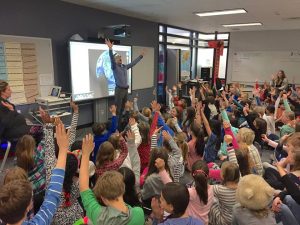 Aertker: I frequently speak at local schools whether I'm in my hometown or traveling to a new place. I love speaking to classrooms and bringing excitement to books and reading. I promote reading for the sake of reading. Period. I think it's important for kids to enjoy the activity. If we want kids to read great literature and to be healthy adult readers, we have to get them to like reading, first.
Chanticleer: Love your passion for reading and helping kids discover the joy of reading. Give us your best marketing tips, what's worked to sell more books, gain notoriety, and expand your literary footprint.
Aertker: The single best marketing tip for me has been to give my books away. I give mostly to teachers, fourth, fifth and sixth-grade teachers, and to librarians. If you're a teacher, please write me, and I will send you a set of books for free. Yes for free! The reason being that a set of books in a teacher's classroom is without question the best calling card I could ever have. I often have teachers write me back and say, "Oh thank you so much for sending the books. The kids are fighting over them!" That is awesome marketing. (Reach Paul at https://www.paulaertker.com/)
Chanticleer: Wow! Well done. So, what are you working on now? What can we look forward to seeing next from you?
Aertker: I am super excited about this next book coming out called, Posthumous. It's a book about a 12-year-old girl who wants to publish her late mother's stories. It's one of those books that I wrote in the middle of the night, and I think it's the best thing I've ever written. It's sad and sweet, and it's all about the kids making things right.
Chanticleer: I think we will all want to read this one. Please keep us updated. What is the most important thing a reader can do for an author?
Aertker: The most important thing a reader can do for an author? That's easy. Write a review! I am amazed at how critical getting reviews are, and how difficult it can sometimes be to get people actually to go on Amazon and write the review.
Chanticleer: Paul, it's been a pleasure. Thank you for spending some time with us. You are a bright star in the universe! 
Okay, now it's your turn… If you have a question for Paul Aertker, please feel free to comment on this post or reach him directly through his website https://www.paulaertker.com/.  If you enjoyed this interview, please SHARE it! Sharing is Caring, baby.
Paul won the 2017 Grand Prize Gertrude Warner Award for Middle-Grade Books because he entered the contest! If you have a middle-grade book the world needs to see, enter the competition here.  The deadline is fast approaching – May 31, 2018.