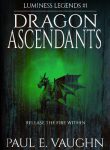 Publisher: TouchPoint Press (2018)
Buy the book now at:

Amazon
---
Dragon Ascendants, Luminess Legends Book 1 WON First Place in the CIBA 2018 OZMA Awards for Fantasy Fiction. Congratulations!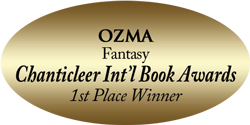 ---
A boy comes of age when he learns his true heritage in a magical, mountainous land of dwarves, elves, men, and dragons is threatened by a powerfully malevolent force.
Tallian is the adopted son of Meerkesh, a dwarf whose wife died when his only child, Killmesh, was just five years old. Killmesh and Tallian are the same age – 18 – but have very different personalities. Killmesh tries to please his father, but his responsibilities are almost overwhelming as the apparent heir to the role of his father holds as Spokesman for their burrow.
Tallian works with all the others in the gem mines of the Furin Mountains, and because he towers over his co-workers, he works faster and finishes sooner than the others. Tallian spends his spare time walking alone in the woods where he discovers a dragon he names Emerald Wildfire.
When terrifying bats formed of rocks invade the burrows, things go from bad to worse. Killmesh, charged with guarding wagonloads of jewels, is drawn away by a villain who shows him an axe he longs to buy. It's a set-up. While he is gone, all the gems go missing. Killmesh can't take the disgrace. He runs away, finds the axe and uses it for violence, which he finds very satisfying. He joins up with the evil elf-dragon monster Fearoc, who is bent on finding Tallian's birth parents. They slipped from his cruel grasp 18 years before, and he has vowed savage vengeance.
Meerkesh, seeing the desperate situation in the burrows, finally tells Tallian the story of his origins, setting the stage for a colossal battle between Tallian with his dwarf family and the dreaded Fearoc and his minions.
Dragon Ascendants (Luminese Book 1) is a well-constructed soon-to-be-classic YA fantasy by debut author Vaughn, who envisions this as the first part of a series. He has carefully laid the scene: Tallian, aided by his brash but brave friend Briskarr and Briskarr's gentle sister Briska, faces a barrage of challenges from Fearoc, with more to be revealed in future volumes of the Luminess saga.
Vaughn conveys a steady, credible view of his mystical setting. Tallian is a readily likable hero, someone who has such love for his adopted dwarf clan that he will do everything in his power to save them. Killmesh, by contrast, is disturbed and impulsive, driven by some anger within that causes him to wreak havoc among his kin.
Magic interspecies transformations, sparkling gems, powerful weapons that make great mischief in the wrong hands, all underpin Vaughn's plot, resulting in a fast-paced page-turner for every age.