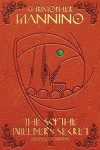 Publisher: CreateSpace, IPP (2018)
Buy the book now at:

Amazon
Christopher Mannino's young adult fantasy novel, School of Deaths, opens with a portrayal of adolescent angst that goes waaaaay beyond "I have nothing to wear!" or "Oh, no!  I have a zit!"
Readers will immediately sympathize with the main character, Suzie Sarnio, who's having the worst first day of eighth grade ever. For starters, she looks like death. Seriously. For mysterious reasons, she's lost so much weight over the last three months that her bones are about to burst through her skin. Her black hair is stringy, and she peers out at the world through lifeless, gray eyes. There's no chance of her blending into the crowd.
Everyone wants to talk about her appearance. Her parents, her brother, her friends, her teachers, everyone comments on how terrible she looks. Just what every girl wants to hear, right? As if being thirteen wasn't hard enough! No matter how much Suzie eats, she can't gain weight. Of course, everyone assumes she's anorexic.
To top it off, she's having nightmares in which a grim-reaper-like dude tells her, "I've come to take you back. You are a Death." And then it really happens. The doorbell rings and there he is, the Grim Reaper in all his glory, and he does indeed take Suzie away.  Take a deep breath and join Suzie as she travels – not over the rainbow – but to The World of Deaths.
Once over her bafflement of how she got there, Suzie learns about her locale at the School of Deaths. It's a bit like Hogwarts, but she's not learning to be a wizard. No, she's in training to be a "Death," one of those who reaps and transports souls that have died from the World of the Living to the World of the Dead. She doesn't study the use of a wand but instead takes classes on how to use the iconic scythe pictured with grim reapers. It's very difficult but Suzie is determined to wield it like a pro, to reap and transport with the best of them.
If at the end of one year she passes the test given to all first-year Deaths, she can return home to her family, her memory of time spent in this ghostly school erased. The odds are heavily against her; most Deaths fail the test and must remain forever. To make matters super worse, Suzie is the only female in the school! The last one, Lovethar, attended more than a million years ago and the school hasn't fully recovered from her scandalous dealings with dangerous dragons. So, Suzie has her work cut out for her.
Students and even some faculty are cruel and go out of their way to throw shade her way. She's no cream puff, however, and refuses to be intimidated, at least in public.  Hermione Granger herself would be impressed. After all, she had female classmates and professors while poor Suzie manages all girl-stuff entirely on her own. Fortunately, there are a few kind students who dare to befriend her and stick up for her when she's bullied by the nastiest of the boys. Billy, Jason, and Frank help Suzie stand her ground in and out of the classroom. She and her squad become thick as thieves and join forces to discover what really happened to Lovethar.
Their investigation will also lead them to unlock the mysteries of the school's servants, the "Elementals," usually referred to with the slur, 'Mentals. The author does a bang-up job describing these fascinating beings that come in various sizes and colors, with multiple attributes of plants and animals. Suzie and the boys are awed by a plant-like woman and winged boys, a seer with black eye sockets and a man whose skin has blue stripes.
They're even more intrigued by the rivalrous history between the Deaths and the Elementals. It's not surprising the Elementals revolt on the school's campus, but it makes the foursome's contact with them incredibly dangerous. Suzie feels tremendous compassion for them, but she can't lose sight of her goal to get through the year, pass the test, and finally get home. That's the plan, right? Hmmm, but if she succeeds, she'll have to leave her friends and, well, one of them may be more than a friend. Yes, there's a bit of romance tucked into all the suspense, and it adds a yummy complication.
From start to finish, this book rocks! It's a story of female empowerment, the gifts of friendship, the curse of slavery, and the mystical mysteries of great beyond. It also makes the grade nailing the ubiquitous sexism and bullying students deal with as teenagers.
The YA audience will devour School of Deaths, as well as adults who love the genre. The prose and the plot sizzle with smarts and confidence. One finishes the book wanting more and thank goodness there is more. School of Deaths is the first volume in a series, The Scythe Wielder's Secret.  You'll want to travel on with Suzie to volume 2, The Sword of Deaths, and to volume 3, Daughter of Deaths.
Christopher Mannino won 1st Place in the 2016 Chanticleer Int'l Writing Competition, in the Dante Rossetti Awards, for YA Fiction.