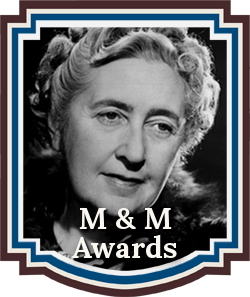 The M&M Book Awards recognize emerging new talent and outstanding works in the genre of Cozy, Classic, & Not-So-Cozy Mystery Novels. The M&M Book  Awards is a genre division of Chanticleer International Book Awards (CIBA) and Novel Competitions.
Chanticleer Book Reviews is looking for the best books featuring "mystery and mayhem", amateur sleuthing, light suspense, travel mystery, classic mystery, British cozy, hobby sleuths, senior sleuths, or historical mystery, perhaps with a touch of romance or humor, we will put them to the test and choose the best among them. (For suspense, thriller, detective, crime fiction see our Clue Book Awards).
The 411
These titles have moved forward in the judging rounds from SLUSH pile to the 2018 M&M Book Awards LONG LIST (aka the Slush Pile Survivors). We incorporate the Long List when the judges request an additional round of judging to accommodate the number and/or quality of entries received.  These entries are now in competition for the 2018 M&M SHORT LIST. Short Listers will compete for the Semi-Finalists positions. Semi-Finalists will compete for the coveted First  Place Category Winners of the 2018 M&M Book Awards in the final rounds of judging.  The First Place Category winners will automatically be entered into the M&M GRAND PRIZE AWARD competition.  The 16 CBR Grand Prize Genre Winners will compete for the CBR Overall Grand Prize for Best Book and its $1,000 purse. First Place Category and Grand Prize Awards will be announced and recognized at the Chanticleer Awards Banquet and Ceremony on Saturday, April 27th, 2019, Bellingham, Washington.
These titles are in the running for the SHORT LIST of the 2018 M&M Book Awards novel competition for Cozy, Classic, and Not-So-Cozy Mystery Novels!
Michelle Cox – A Promise Given
Kate Vale – Only You
Mary Adler – Shadowed by Death: An Oliver Wright WW2 Mystery Novel
B.L. Smith – Bert Mintenko and the Minor Misdemeanors
Charlotte Stuart – Why Me?
Nick Korolev – Flashback
Becky Clark – Fiction Can Be Murder
Alan Chaput – Savannah Sleuth
Elizabeth Crowens – Dear Mr. Hitchcock
Christine Evelyn Volker – Venetian Blood: Murder in a Sensuous City
C. C. Harrison – Death by G-String, a Coyote Canyon Ladies Ukulele Club Mystery
Susan Lynn Solomon – Dead Again
Mark W Stoub – The Fifth Trumpet: Fire in the Blood
Traci Andrighetti – Campari Crimson
Dawn Meredith – Letters From the Dead
Chief John J. Mandeville – Old Dark and Dangerous
Bonnie C. Monte – The Sleeping Lady
C.A. Larmer – Do Not Go Gentle
Anna Castle – Moriarty Brings Down the House
C.A. Larmer – Evil Under The Stars: The Agatha Christie Book Club 3
James Musgrave – Chinawoman's Chance
James Scott Byrnside – Prisoners of the Past
Nancy J. Cohen – Hair Brained
Stone Winkler – Blood on a Blue Moon: A Sheaffer Blue Mystery
Roger Newman – What Becomes
Julie Chase – Cat Got Your Secrets
Lori Robbins – Lesson Plan for Murder
Lo Monaco – Lethal Relations
Linda Hughes – Secrets of the Asylum
Donna Huston Murray – For Better or Worse

Anna Castle – Moriarty Takes His Medicine

Carl and Jane Bock – Death Rattle
Deborah Rich – Under the Radar
Kelly Oliver – FOX: A Jessica James Mystery
Susan Lynn Solomon – Dead Again
All Short Listers and SemiFinalists will receive high visibility along with special badges to wear during the Chanticleer Authors Conference and Awards Gala.

Good Luck to each of you as your works compete for the

M&M Awards Short List. 

The M&M Grand Prize Winner and the First Place Category Position award winners will be announced at the April 27th, 2019 Chanticleer Book Awards Annual Awards Gala, which takes place at the Chanticleer Authors Conference that will be held in Bellingham, Wash. 
We are now accepting submissions into the 2019 M&M Awards writing competition. The deadline for submissions is April 30th, 2019. Please click here for more information. 
As always, please do not hesitate to contact us with any questions, concerns, or suggestions at Info@ChantiReviews.com.