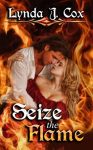 Publisher: The Wild Rose Press, Inc. (2015)
Buy the book now at:

Amazon
Author's Website
Drake Adams and Jessie Depre want the same thing: peace. For Drake, peace will only come when he can rid his memory of Jessie's heart-wrenching betrayal nearly two years earlier, at the altar. What began as a fairytale love between childhood sweethearts ended when Jessie married another man and left the Wyoming territory. Since then, Drake has given up his law career to become a bounty hunter, and when he sees Jessie's wanted poster, he knows he has only one choice, track her down and return her to the man she ran off with.
Following a life-changing misunderstanding, Jessie married the first man she saw, but it wasn't long before her would-be hero turned into a real-life monster. She will only find peace when she is far away from her homicidal husband, Robert. However, when Drake captures Jessie, both realize their own peace just might come from rekindling their love for each other.
Lynda J. Cox's Seize the Flame is a story of reconciling the past. Both characters are emotionally and physically damaged. Jessie's story will touch home with any woman who's been the victim of abuse. Her fear, her panic, are so real the reader will instantly identify with her even if he/she has never suffered from that unfortunate malady. The strength she has in not only running from her husband but also in ensuring the safety of another innocent woman celebrates the determined female spirit. Despite the scars on her body and, more importantly, in her mind, Jessie manages to find her own way and create her own destiny.
Drake has a genuinely unique story. Kidnapped at the age of nine and forced to work for a ruthless thief until he's rescued by Royce, Jessie's father, Drake loved Jessie from the first moment he saw her. His continued devotion to the woman who shattered his dream of a home and family of his own is touching and endearing. Although the backstory is as winding as a Wyoming mountain trail, the story unravels slowly enough to allow the reader to soak it all in and experience the complexity of these characters, and though the genre is historical romance, the romantic content is limited enough that fans of the western genre will still enjoy the novel without blushing.
Seize the Flame by Lynda J. Cox won First Place in the Laramie Awards for Western Fiction in 2016.