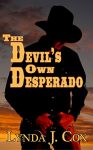 Publisher: The Wild Rose Press (2013)
Buy the book now at:

Amazon
Author's Website
Can a gunfighter ever truly hang up his guns and settle down in one place? When Colt Evans is wounded in a fight, he flees – as far away as he can get – searching for a place to heal. What he finds has the potential to change his life forever and make him yearn to settle down. But, will his past stay behind him?
Injured and on the run, Colt Evans stumbles upon a remote homestead owned and operated by Amelia McCollister and her two siblings. The orphaned siblings have strong feelings about gunfighters as their parents were shot to death by outlaws several years earlier. Due to this sad fact, when the well-known gunfighter arrives at the homestead, Amelia is reluctant to open her home to the man.
Despite this, she follow her nature to heal rather than harm the wounded Colt against the warnings of the doctor and Marshall of the town. As she nurses Colt back to health, Amelia's strong misgivings about this stranger seem to disappear.  Colt finds that the longer he is with Amelia, he doesn't want to leave. However, he knows that someone will eventually come looking for him. He does not want to stay and bring trouble to Amelia and her siblings; however, the longer he remains on the homestead, the stronger his feeling for Amelia grow.
As Colt had feared, his enemies find him. The danger is just too severe for Amelia and her brothers, so Colt leaves. However, once a gunfighter, always a gunfighter – at least in reputation. When Colt is ambushed and left for dead, the only thing that keeps him alive is his last drive to find Amelia, the love of his life.
Lynda J. Cox has crafted an enjoyable novel of the Old West. Nelson's writing is engaging and flawless as she weaves the needs and desires of her two main characters against the brutal reality of the 1880's into the story. This is a classic romance set-up, and it works to the readers' delight. The book presents a well-balanced mix of romance and gritty 1887 Wild West action. This combination makes for one page-turning Western epic.
The Devil's Own Desperado by Lynda J. Cox won First Place in the 2015 LARAMIE Awards!