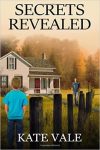 Publisher: North Cascades Press (2016)
Buy the book now at:

Amazon
Author's Website
Owen Haskins is returning to his childhood home on fictional Cedar Island (which has an uncanny resemblance to Whidbey Island for those readers in the know) with his seven-year-old son Ian so they can have a new start. Ian has had trouble being bullied in his old school, and Owen is worried that new teacher, Faith Russell, may not be up to the job of helping his vulnerable son. Of course, Faith and Owen clash, while simultaneously being attracted to each other, but painful experiences in their past initially keep them from acting on their growing feelings for one another.
Secrets Revealed by Kate Vale is the 4th book in her Cedar Island Tales series, and it is not necessary to read the previous tales to jump right into this heartwarming romance. Each of the main characters has their own secret that affects their relationship. Faith is an accomplished teacher but is distrustful of men. She dresses in clothes that used to fit but now are worn and oversized, almost as a shield to keep people at bay, something her mother (who shares the other side of a duplex with her) constantly harps about.
Owen left his hometown due to a very difficult relationship with his abusive father. He didn't return until after his mother's death—something he regrets.
Ian is withdrawn, possibly from the bullying he endured at his old school, but he has a secret as well, one that goes back to the tragedies of losing both his mother and grandmother in Idaho while still a young boy.
As Owen and Faith interact, they can't ignore the attraction between them, and they begin a sensual relationship but agree not to become "serious." Faith can't help but fall in love with Owen, but their relationship is complicated by misunderstands and young Ian's desire to have Miss Russell become his new mom. These secrets have a lot of sway over the lives of those keeping them, and the story is a good reminder of the power of secrets and words in our lives.
A nice twist in the romance genre, Vale tells her story from not just the point-of-view of the two romantic leads, but also from the viewpoint of young Ian, a character whom readers will care about from the very beginning of the novel.
Secrets Revealed won First Place in the 2016 Mystery & Mayhem Awards for Kate Vale.