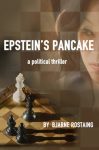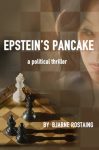 Publisher: St. Marks Press (2015)
Buy the book now at:

Amazon
Author's Website
Styled in the cooling off days of the Reagan era and the still heated Iran Contra imbroglio, Epstein's Pancake features a street-wise hero afflicted by PTSD and new to the spy vs. spy game. Viet Nam vet Rob Price is not having an easy time with civilian life when a friend introduces him to a mysterious man who wants to hire him for some low-level, well-paid courier work in France – dropping things off, meeting people in airports, that kind of thing.
Of course, it's espionage and despite how careful Price normally is, he doesn't hesitate. He has little to lose, though he will gradually realize that even someone with little to lose might find something worth saving. In this case, possibly, the entire world. As he gets more tightly drawn into more secretive levels of the work, Price begins to wonder who the good guys really are. He has one trustworthy supporter, a martial arts teacher name Jennie whose instruction might save his life as he takes on an entire military-industrial complex.
At the core of this multi-layered plot is a scientist playing with something that still seems ultra-futuristic, though it has been around for longer than most people realize: artificial intelligence. In this case, AI is represented by a plate full of genetic mush connected to wires and computers – the eponymous pancake that multi-nationals, dictators and even the leaders of the free world want to control. After numerous near-death experiences and constant switchbacks that force Price to re-learn his playbook almost daily, he will identify the villains in the piece and force their hand. But not without cost to his psyche.
Rostaing, an award-winning author, paints a remarkable picture of the times and the setting of this action-rich, intelligent tale, and is able to convey it in rich language. Doubtless, he has accessed many sources in piecing together a novel that seems entirely accurate down to small but significant details, from everything that was on TV in the late 1980s to how the bigwigs were thinking.
He inserts some believable behind-the-scenes vignettes and a few well-chosen opinions without weighing the narrative, and he has an excellent ear for dialogue. In Price, he has brought to life an enjoyable mix of John le Carré's cool-headed Smiley and Dashiell Hammett's hard-bitten Sam Spade.
With international intrigue, a new twist on almost every page, life-threatening danger, and a hard-living hero with a soft heart, Epstein's Pancake is a smart story solidly in the spy thriller genre that's bound to garner a loyal readership.
Epstein's Pancake won First Place in the 2016 Clue Awards for Bjarne Rostaing.