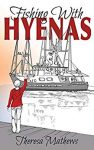 Publisher: Dancing Moon Press (2016)
Buy the book now at:

Amazon
Author's Website
Romance, typhoons, and exotic scenery highlight this exceptional sea-faring memoir about love and surviving loss by debut author, Theresa Mathews.
When the author first meets Bart, he strikes her as a "wonderful blend of sophistication and blue collar." Captain of a fishing boat, he prowls the seas for albacore, the long-fin tuna beloved of sushi fans. To hook up with this romantic figure, Mathews must accept the reality of connection with one of the "Hyenas"—a group of hardy fishermen (and some women) who give each other humorous nicknames and look after one another at sea and "on the beach" (their term for being on dry land). Bart fishes for three-month stretches, so it isn't long before Mathews decides to drop her professional career and sign on as the cook and a deckhand on his next voyage.
On that voyage, Mathews learns more than she ever imagined about the perils and pleasures of the sea, tuna fishing, and—herself. She hauls in the big fish, cutting and wounding her hands so severely she can barely hold a toothbrush. She cooks and also keeps watch, once needing the assistance of a fellow crewman to avoid a close encounter with another vessel.
It gradually becomes clear, as the Hyenas often say, that "Mother Ocean" changes a person. On land, Bart is talkative and flirtatious; at sea, he is the Captain with no time for chitchat. On their last voyage together, the couple, now married, discovers that the going rate for a tuna haul is half what it had been. They are beyond broke, so Bart keeps fishing while Mathews stays on land and works. Then she receives a call—her beloved husband has died at sea, of a heart attack.
Flashing from the shock of that news to the halcyon, sometimes perilous and often amusing days at sea with a cast of colorful characters too fascinating to be fictional, Fishing With Hyenas evokes heartthrob and heartbreak. Mathews' creative competence is beyond question, as this skillfully constructed narrative attests. Well-chosen photographs bring the episodes alive.
The memoir is partly catharsis and partly a paean to Bart and his many staunch friends. Mathews deftly weaves the lore of the independent fishermen and adventures on the water through every page: the rescue of a kitten, the freeing of a bird, camaraderie among fishing families, and the occasional spectacular sunset.
The aftermath of Bart's death leaves Mathews grief-stricken, penniless and fighting for his legacy—the boat he had borrowed everything to possess. But we know from her courageous account that Mathews will overcome any hardship—having experienced a weathered life at sea and the loss of a good man.
Fishing With Hyenas won 1st Place in the JOURNEY Awards, the narrative non-fiction category of the Chanticleer International Book Awards in 2017.