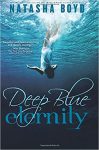 Publisher: Natasha Boyd (2015)
Buy the book now at:

Amazon
Author's Website
When two strangers meet on a small island, they quickly find their destinies intertwined in ways that are painful, and potentially passionate.
Eighteen-year-old Olivia, or Livvy, steals a credit card and some meds from her parents and runs away from home – forever. She is carrying the key to a cottage on Daufuskie Island off the coast of South Carolina, where she intends to retreat.
The cottage is an inheritance from her grandmother to Olivia and her sister Abby. Abby died tragically, and her memory continually haunts Livvy. To add to her problems, the cottage is already occupied. A young man named Tom has been in residence for quite some time. Forced to acknowledge that he has some claim to the place, Livvy accepts the arrangement, and she and Tom begin a strange, strained stand-off of tentative, suspicious acquaintance that very slowly morphs into a kind of trust that neither of them had anticipated.
Interacting with the island folk and gradually piecing together bits of their shared past, Tom and Livvy creep towards romance. It's no easy road; there are jealousies, misunderstandings and a fair share of subdued rage on both sides. To get to a sense of complete understanding, both must shed their anger, bitterness, and mistrust, and to come to grips with secrets from their shared past that threaten like storm clouds.
Told from the separate, alternating perspectives of Olivia and Tom, Deep Blue Eternity casts light on two tormented souls. Livvy is flippant at times, at other times, almost immobilized by depression, while Tom vacillates between overly guarded and domineering. As they observe one another, the reader learns how burdened each one is, how much they long to exorcise their ghosts and find simple contentment.
Award-winning author Boyd (Eversea) has constructed this psychological romance with admirable patience and skill. The reader sees Olivia and Tom interacting like two people learning to waltz, beginning with teetering missteps and embarrassing stumbles and fumbles, through some moments of shared confidence that quickly fade, until they are finally, gracefully moving as one. Though both are young and wounded, by the end of this engaging story, the reader feels that they have a chance for enduring love. Boyd has a gift for dialog and is comfortable with the setting, convincingly conveying the charms of Daufuskie and its inhabitants.
Readers of intelligent, romantic fiction will be enthralled by this complex exploration of two people forced together by fate, trying to turn what could be a disaster into a lasting bond.
Deep Blue Eternity by Natasha Boyd won 1st Place in the 2015 Chatelaine Awards.