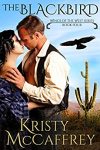 Publisher: K. McCaffrey LLC (2015)
Buy the book now at:

Amazon
Author's Website
An historical sensual romance set in the rustic Arizona territory of the late 1800s, the fourth in the Kristy McCaffrey's Winds of the West series, The Blackbird hits the mark.   It brings together two tortured souls who also have deep insights and gifts that may help them find their way to each other.
Tess Carlisle is a spirited but wounded young woman who suffered an assault by one of the men in her father's gang that left her leg wounded and her soul scarred. Tess's life was already tough when she began to ride with her father and his band of bounty hunters. She lived with her alcoholic mother and her beloved Abuela (grandmother) until the two older women died in a house fire, brought on by her mother's depression and drinking. Tess has the ability to tell stories, a gift she learned from her grandmother and Tess knows this ability ties her spirit to the greater world. She sends word to Cale Walker, a man who used to ride with her bounty hunter father, to help her find Hank Carlisle, to find out answers to why her papa would allow one of his men to assault her and then abandon her.
Cale Walker joined Hank with his band of bounty hunters after a stint in the Army until he had a falling out with Hank over the ruthlessness of some of the other members "methods."  On his way from leaving Hank, Cale was attacked by a mountain lion and rescued by an Apache tribe, such as those that Hank and Cale hunted. During Cale's time with a tribe of the Nednai, he learned their healing ways and became a di-yan (medicine man). Cale also has unresolved issues with Hank.
Cale and Tess are introduced to each other at the very beginning of the novel, when Cale arrives at Tom and Mary Simms' home, having been summoned there by a letter from his half-sister, who also is Mary's half-sister. Yes, there are a lot of names that are mentioned at the beginning of this story, and, as the fourth in a series, reading the first one helps set all the other characters in their proper place.
When Cale and Tess meet, there is an instant connection, one that Tess tries hard to ignore given her past, and one that Cale wants to suppress, because of the wounded spirit he senses in Tess. He wants to protect and help her. As they travel together to find Hank, Tess and Cale are wary of the growing feelings between them. It's an unforgiving land, and they are both unsure who to trust, including themselves. When Tess is hurt in a fall during an attack, Cale finds his way to Vern, a rancher in the Dragoons where Tess allows Cale to use his healing knowledge to help her leg get strong, and she nurtures a wounded blackbird, aware of its connection to her, wounded and in a cage to heal, but wanting to be free. Can Cale bring her the same kind of healing?
Blackbird is a sensual romance and has all the aspects one might expect for the genre –  and receives high marks as being a keenly written historical novel. The author's attention to historical detail is evident in the use of traditional Apache terms and realism of the time. Tess's storytelling ability and memories of her grandmother also add to the flavor of the novel as she sprinkles her stories and conversation with Spanish phrases. But it is the story of two wounded hearts finding each other in the hardscrabble environment of Arizona during the time of Geronimo that makes The Blackbird go beyond "romance."
The storyline is so engaging and intense, it is difficult to put down. The description of the Arizona desert, such as the otherworldly look the Dragoon Mountains, as well as the brutality of both the bounty hunters and some native war parties, show the realities of what life was like during those time, for both the settlers and those Apache tribes that wanted to live at peace without government interference.
The Blackbird by Kristy McCaffrey won First Place in the 2015 LARAMIE Awards!