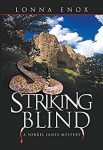 Publisher: Lonna Enox Publications (2016)
Buy the book now at:

Amazon
Author's Website
All Sorrel Janes wants to do is vanish. And for a while, she does just that.
As a former television crime reporter in Houston, Sorrel is surrounded by danger, but after her husband's murder by a drug cartel, she flees her life of minor stardom, changes her name, and moves to the usually quiet town of Saddle Gap, New Mexico.
After opening a small shop selling consigned crafts and beginning a career as a nature photographer, Sorrel thinks she finally has what she wants most: a peaceful life. It doesn't hurt that she's caught the eye of handsome sheriff's deputy Chris Reed, either. But when an old photograph from her days as a reporter shows up on a body found murdered "cartel-style," she is suddenly thrust back into her old life. Soon the violence spreads. She receives a mysterious package, and though she fears for her fragile new existence, her curiosity won't let her rest until she knows the truth about her connection to the victim. This adventure, however, may be more than she can handle.
Striking Blind has a depth of characters that please and intrigue. Even characters not featured in the main storyline have significant development. From Teri, Sorrel's pregnant best friend and star employee to the murder victim in the prologue, characters have extensive backstories, creating round, believable personas that enhance the featured mystery. As Chris Reed points out, Sorrel, like her equine namesake, is stubborn and feisty, the trademark of a great protagonist and detective.
The extensive history given in the previous two novels won't be overwhelming if this is the reader's first experience with the series. With the descriptions of Sorrel's everyday-life, her inability to cook and her cantankerous cats, the reader feels a real connection to Sorrel. Persistence and curiosity make her a believable former reporter and a victim unwilling to stand still while someone threatens her and her new life.
Lovers of romance and paranormal won't be disappointed either. The flirty banter and interaction with hunky cop Chris Reed make for a pleasant distraction in the action, and with the promise of more romance to come, readers will want to continue this series. To add supernatural flavor, Sorrel is commanded by a dream entity to help the "weeping child," and though she never fully finds the answer to this midnight task, it haunts her until the end.
From the gruesome death in a mysterious cave at the opening until the very end, this edge-of-your-seat mystery will keep readers following the Sorrel Janes Mysteries series just as the lead character follows every clue – to the end.
Striking Blind by Lonna Enox won 1st Place in the 2016 CLUE Awards.