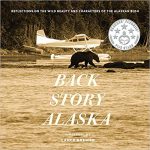 Publisher: Back Story Alaska, Inc. (October 10, 2018)
In 1993, Brewer took advantage of an opportunity to go on a fishing expedition in a remote part of Alaska. As the bush pilot guided the plane to their first destination in the great northern wilderness, Brewer was so entranced that he told a fellow passenger that he intended to buy a float plane, learn to pilot it, and "explore Alaska." He did that and more over the next twenty-some years. Brewer states that he did not set out to write a book. Rather, one day as he reflected on his time in Alaska, he wrote a single poem, and within a month, twenty-two reflective poems followed. Brewer wrote the back stories to each poem, and the Back Story Alaska was born.  Each chapter ends with an integrated poem which cleverly summarizes the events of the chapter. Throughout the memoir/travelogue are photographs of wild animals and outstanding Alaskan scenery.
After that first encounter with the Alaskan backcountry, Brewer, a lawyer in southern California, gradually established Camp Brewer, a summer retreat for friends and family. It's there that he shares the experience of the rustic charms of the forty-ninth state. He gained multiple ratings as a seaplane, ski-plane and helicopter pilot which he uses as a means to explore Alaska. The wildlife available for viewing around his camp include brown bears, moose, eagles, foxes, wolves, and salmon so plentiful that in places, a fisherman may find himself walking on a living carpet of them.
Stories of Brewer's "Campers"- those he's introduced to his cherished wilderness – give testimony to the effect that Alaska has a newcomer, a surreal combination of feelings that, Brewer says, "stir yet calm."
A practiced raconteur, Brewer writes with intelligence and emotion, sparked by his wry sense of humor. He gives each visitor to the camp a nickname – usually the animal that the person most wanted to see – so there are tales of Mr. Fox, Mr. Wolf, and Mr. Eagle, and a little boy named Master Bird. His observations about his Campers, the habits of the game they encounter, the many still largely unspoiled regions of the Alaskan bush with its capricious, unpredictable seasons and rapidly changing tides, will whet the armchair traveler's urge to get up and go north.
One segment is especially gripping, as Brewer follows the running of the famed Iditarod dogsled race from stop to stop, overseeing the action in an unpredictable ski plane that took two hours to start in the 20-below temperatures.
Brewer's writing serves as a travelogue, reminding us that Alaska, often depicted on US maps as a small inset, is twice as big as Texas, holding more coastline than all the other states put together. The many color photographs give the book further allure, taken by Nat Geo award-winning photographer Bob Dreeszen, whom the author calls Ugashik Bob after the settlement where they first met.
A wolf nestled in a stand of blue flowers, foxes sparring, an eagle making a landing on the surface of the water – these images and more add piquancy to a book already spiced with poems, family nostalgia, a heaping helping of rough adventure and a frisson of danger.