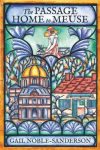 Publisher: Noble Press (2017)
Buy the book now at:

Amazon
Author's Website
It's 1923 and character Marie Durant Chagall is now 27 years old as she tells about her life-altering events in The Passage Home to Meuse, thanks to author Gayle Noble-Sanderson. This is the second historical novel in the Meuse Trilogy. The world around Marie is still reeling from the devastation of World War I. She and the other characters in the book are learning how to continue living, and perhaps more importantly, wishing to find joy once again in life.
Marie is at home in France, seeking peace within, as well as for those around her. She looks for ways to help others who are in need, and her nursing skills come in handy to help this farming community. Nearby she's found a sense of belonging with the Sisters at the Chapel, and her friendships continue with Henri and others.
Under pressure of a persistent letter campaign from her father and her sister Solange, Marie consents to take a voyage from France to New York to visit them, not realizing she'll discover a secret that awaits her there. Sailing on the incredibly luxurious SS Paris is an exciting trip filled with unexpected experiences, interesting people, and new friends. The author takes the time to engage the reader in the beauty of this voyage. Upon arrival in New York, the contrast of post-war Europe and America is striking, skillfully portrayed, and thought-provoking. After a visit filled with surprises, the journey home propels Marie into grand plans for her future, but will she be able to turn those into reality?
The author's extensive research of this historical period permeates every page. Additional notes from her research at the end of the book present fascinating insights into the period. The writing in the novel is charming, and the expansive descriptions of both settings and events ignite the reader's imagination. All the characters jump off the pages with their hopes and dreams, and even their fears bringing great dimension to their personalities.
Author Gail Noble-Sanderson is a speech-language pathologist who has published many educational programs for children with special needs. Fortunately for historical fiction readers, she decided to turn her attention to this genre.
The Passage Home to Meuse is an epic journey back to the post-war world of the 1920's. Wistfully Marie wonders, "What might have been, what would have been had the war not torn us all apart, rupturing the very soul of our lives?" Somehow she and those around her must find meaning in life again. Every aspect of human nature and the desire to rebuild is explored in this novel, including rebuilding family, whether blood or chosen. Ultimately, Noble-Sanderson explores whether love can indeed conquer all.
Gail Noble-Sanderson won 1st Place in the 2017 CHATELAINE Awards for The Passage Home to Meuse.