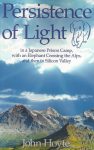 Publisher: Terra Nova Books, Santa Fe, New Mexico (2018)
Reading John Hoyte's memoir, Persistence of Light, is like sitting around a campfire absorbing stories of adventure, loss, and love – and feeling better for it. With journalistic precision, Hoyte shares both the facts and the emotional impact of his fascinating travels, doing so void of self-pity for his suffering and without self-aggrandizement for his vast achievements.
Born in 1932 to medical missionary parents (his father, Stanley, was British; his mother, Grace, American), Hoyte enjoyed a vibrant childhood taking nature walks and playing with his five siblings. A pivotal moment came at 8 years old when his parents were summoned to a missionary hospital, 1300 miles away in Lanchow. Hoyte and his siblings ended up in a Japanese internment camp without either parent.
Despite weeks with little to no food, wearing tattered clothing and walking barefoot (shoes were a commodity), he mustered the energy and the interest to write, sketch and draw – ultimately finding mystery and hope in a world besieged by authoritarian forces. His intense curiosity that percolated as a child, along with his faith in God, leads him on the many adventures he depicts in this thoughtful and exciting memoir.
The second part of the title "…in a Japanese Prison Camp, with an Elephant Crossing the Alps, and then in Silicon Valley," encapsulates just a few highlights of the author's escapades – the most memorable of which was his 1959 trek across the French Alps with an elephant. Fascinated with history, he and college friends from Cambridge embraced the goal of trying to reenact Hannibal's legendary crossing of the Alps that occurred in 218 BC (in case you don't know: Hannibal trekked with an army and 37 war elephants en route to attack Rome more than two thousand years ago).
In Hoyte's case, they successfully guided Jumbo, a female Asian elephant provided by a zoo in Turin, Italy, from France over the Col du Mont Cenis. Life magazine, which sponsored the trek, published a considerable photo spread of Jumbo and parts of the trek in its Aug. 17, 1959 edition. To this day, Hoyte rounds up his kids and lifelong friend Richard Jolly (who accompanied Hoyte and wrote the book's Preface) every few years for a reunion hike in the French Alps to celebrate that fateful crossing.
This exciting, adventuresome spirit lives in Hoyte's suspenseful storytelling. We learn of other notable moments like when he knew Eric Liddell, the Scottish Olympic runner, who tragically died while at Weihsien, the same internment camp as Hoyte (Liddell's life is depicted in the 1981 movie, "Chariots of Fire"). Later, at the age of 27, Hoyte landed a contestant role on the American game show, "To Tell the Truth," and in the mid-1960s, after leaving a corporate job at Hewlett-Packard, he took the leap to start his own company Spectrex in Palo Alto, Calif. Through all of his travels, Hoyte embraces light and color which lends a cheery quality to the book. Each chapter begins with a reference to Isaac Newton's seven colors of the rainbow. For example, Chapter 4, An Alpine Journey, starts with green, evoking the natural beauty of the Alps.
In addition to writing, Hoyte enjoys painting, sketching, and drawing and lives in Bellingham, Wash. with his wife, Luci Shaw, a poet. While he dedicates the book to his grandchildren, its universal appeal is for anyone who overcomes adversity – or may need to overcome adversity – and dreams about adventure in faraway lands.
Highly recommended.
***
"When Gandalf said to Frodo, 'All we have to decide is what to do with the time that is given us." (J.R.R. Tolkien), surely John Hoyte was listening. Starting early and without choice, he and his siblings are interned in a Japanese prison camp, afterwards, he follows along Hannibal's elephant trail over the French Alps. ." – Chanticleer Reviews