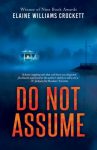 Publisher: BookBaby; 1 edition (2015)
Buy the book now at:

Amazon
Author's Website
While attending a swanky Washington DC party for the District's movers and shakers, Federal Judge Warren Alexander notices a Jaguar approaching the mansion amid the darkness with the barrel of a rifle protruding from the driver's window. Up the hill, Senator Tom Marriner has just arrived surrounded by a Secret Service detail as he exits an armored van. Seconds later, a bomb is discovered in the van's gas tank, the timer counting down, 13, 12 …
The senator, shielded from behind by Secret Service agents, scurries down the hill away from the mansion, toward the gunman. It's a trap. Alexander sprints for the Jaguar to intercede. The van explodes. The senator and his protection detail are thrown to the lawn. The Jaguar races off. Alexander finds the senator dead, a single gunshot to his chest.
Alexander, a former profiler with fifteen years of FBI experience insinuates himself into the case. Why was the senator shot, and by whom? He soon learns the assassinated senator, as head of the Judiciary Committee, had put Alexander's name forward to replace a retiring Supreme Court justice. He eventually realizes the motivation for the senator's assassination may have its roots in an unsolved rape and murder of a teenage girl forty years before in the small town of Grey Lake, Maine, and involved some of the most powerful names in Washington.
When it is uncovered that the murder weapon used to kill Senator Marriner was a rifle owned by Judge Alexander and that Alexander's wife had recently threatened the senator's life, the judge realizes the aftermath of the assassination, and the plot behind it may have the power to destroy both his family and career.
Elaine Williams Crockett is a talented author with an engaging style. The story has more twists than an angry rattlesnake, which will make it hard for mystery lovers and those who favor political intrigue to put it down or get a decent night's sleep. Crockett's characters are well fleshed out, interesting, and believable. The novel contains mild violence, though nothing overly graphic.
As mentioned earlier, Elaine Williams Crockett is a talented author who has the ability to be a rising star in this genre dominated by Lee Child, Vince Flynn, and Michael Connelly. She's on my watch-list and I look forward to reading her work in the future.
Do Not Assume won 1st Place for Crockett in the 2016 CLUE Awards.