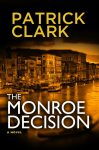 Publisher: Koehler Books (2017)
Buy the book now at:

Amazon
Author's Website
As a treaty expert for the Department of State, Aaron Monroe travels the world extensively, unquestioned and unsuspected. This allows him to efficiently fulfill his orders. You see, in reality, Monroe is an undercover operative for the covert arm of the US Council for Homeland Defense. He is the best at what he does—taking out targets, sanitizing scenes, and scooting away undetected.
On holiday in Italy with Sarah, his wealthy, beautiful, Eurasian girlfriend, he abandons her in Venice for one day to keep an appointment in Trieste. A final "go" from his handler in Washington D.C. and Aaron tracks his targets, an al Qaeda and ISIS financier and a senior ISIS commander, to a decrepit villa in one of the city's oldest areas.
While clearing the building, after gaining entry and eliminating these men, Aaron finds an office equipped with multiple closed-circuit TV screens monitoring four locked, basement rooms. Three are crowded with young teenaged girls and one with pre-teen boys.
Now what? A quick call to his handler, a decision—leave the captives for the police to find— sanitize the scene and get out undiscovered. During the cleaning process, Aaron finds a ledger written in what appears to be Arabic in the deceased financier's satchel. As the ledger may contain valuable information, he slings the satchel over his shoulder and poof! He's out of there.
At Sarah's insistence, Aaron relents and allows her into his shadow world. They trek around Europe and the United States, seeking to expose the international human trafficking ring that kidnapped those children to sell as unsullied brides for ISIS fighters and suicide bomber trainees.
This dangerous quest takes them into the highest echelons of government and industry, where the lust for power and wealth supersedes human decency and democratic ideals. Ultimately, Monroe is forced to question whom he can truly trust and, perhaps more importantly, if anyone really has his back.
The Monroe Decision explores relatively uncharted territory within the thriller genre. Clark uses socio-political facts and incidents from today's headlines and accurate, detailed descriptions of familiar and exotic locations to create a mesmerizing yarn, replete with assassination, romance, betrayal and the triumph of good over evil.
Clark offers no downtime for his readers: plot, characters, atmosphere, setting, and pacing coalesce into a smooth, captivating read that's hard to put down. Our advice? Clear your calendar, turn off the phone, lock the door, and enjoy.