Publisher: Shivnath Productions (2016)
Buy the book now at:

Amazon
Author's Website
---
Dragon Speaker, Book One of The Shadow War Saga by Elana A. Mugdan won the CIBA 2018 Grand Prize in the OZMA Awards for Fantasy Books! Congratulations!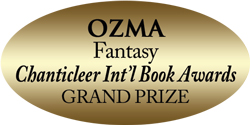 ---
A young girl is charged with rescuing a dragon and, ultimately, saves her world in this wide-reaching fantasy conception of love, war, danger, and magic. Massive amounts of magic!
Keriya is a simple girl of no great pedigree who lives in Aeria where everyone except her wields some form of magic. At age 14, she knows she will not be selected to prove herself worthy of a greater destiny in the annual Ceremony of Choice. But she has to try. Even though the consequences of failure will be a life of slavery, she yearns for the opportunity. She approaches the selection committee and begs ─no, demands ─ a chance.
Like the others chosen in the Ceremony, she goes alone into the forest to seek her destiny. There she meets the great god Shivnath who assigns her the task of locating and protecting the last of the dragons, Thorion. She must fight against the most pervasive evil; a monstrously powerful force named Necrovar, skulking in the land of Allentria. In giving her the necessary, but unnamed, gifts to accomplish the task, Shivnath gives her shining purple eyes that mark her as unique, perhaps dangerously so.
However, no one believes Keriya's claim that Shivnath has given her the ability to fight Necrovar without help. But Keriya knows her destiny. She takes the name Soulstar to give herself inner strength, and the adventure begins.
Keriya's journey is longer and more crooked than she had envisioned, and soon she is joined by her childhood rival, Roxanne who has many magical powers and by Fletcher, whose magic, like his personality, is rather weak. Dangers surround the trio at every turn, and they soon learn that trust must be earned and friendships must be carefully guarded.
Author and award-winning fantasy film-maker Mugdan has been writing this intriguing saga since she was in high school, and perhaps because of that, has retained a remarkable empathy for her teen heroine. Keriya is a multi-faceted character, capable of getting fed up with her shortcomings and ashamed of her failures while maintaining in her spirit the belief that she will have what it takes to act courageously in a crisis. Mugdan movingly depicts Keriya gaining the skills and confidence she will need for cosmic combat. The author also shows this growth in Keriya's companions Roxanne and Fletcher, who are themselves facing challenges they never dreamt of; and the three are gradually gaining respect for each other.
Mugdan also manages to make the dragon a sensitive, likable player in this fantasy, while at the same time creating some super-unlikeable evil-doers: shadowbeasts, giant slugs, bogspectres, and of course the almost unconquerable Necrovar. Add to this a bit of romance, some supernatural magic, and at least one acrimonious enemy lurking in the background, and you have the recipe for a highly successful first in series fantasy novel.