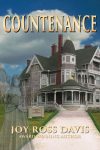 Publisher: World Castle Publishing (2018)
Nealy Monaghan's Aunt Sylvie is an author of several cookbooks with a large fan following – and some very different kinds of recipes in Joy Ross Davis' Countenance.
Lately, life has taken some terrifying turns, but Nealy remembers that as a young girl, she had been happiest at The Playhouse Inn, an unusual B&B nestled in Tennessee and run by her famous aunt, Sylvie Wolcott.
When the worst happens, it's that happiness she turns to for comfort, trust, and guidance. Right now, Nealy needs to grieve. She needs to rest. Which may be hard to do since Aunt Sylvie has a delicious secret ingredient she slips into every recipe. Something's going on in that big kitchen – something more than good eats – and it's up to Nealy to figure it out.
Benton, the handsome all-around groundskeeper, and LuLu, the very talented Irish wolfhound, keep Nealy company as she works to understand the Inn, its history, and just what her future holds—as well as her past. The revealing answers surprise both her and everyone around her, as the truth really will set them free.
Davis does a solid job of presenting some details with a "bang!" and yet engaging the reader with short chapters and a sense of mystery. Her writing style makes it very easy to lose oneself in the read. In other words, this book is hard to put down.
Davis also excels at sensory details. When Nealy is cold, for example, the iciness is easy to feel. When Sylvie cooks, her dishes are described with a mouth-watering appeal. Natural and unnatural elements come into focus with equal appeal, until the reader can feel the warmth of a polished piece of wood, or hear the music of wind chimes.
In almost gothic fashion, the steep cliff by the inn lends a sense of real danger, while the old building itself has problems all its own. Davis pays attention to detail and description, adding nuance and atmosphere to her settings in place and time.
Countenance will engage the reader with an unexpected melding of the senses. Religious and philosophical ideas are brought forth in epic battles of Good versus Evil in the most unexpected places –  even in Aunt Sylvie's sunny kitchen!