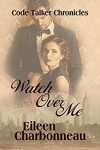 Publisher: Books We Love (2017)
Buy the book now at:

Amazon
Author's Website
Twenty-four-year-old Kitty Charente is trying to put her life back together. Working as a switchboard operator for a perfumer based in New York City, Kitty wants to put the death of her husband, Phillipe, and the miscarriage of her baby behind her and move forward. But when her boss, Jack, gives her the task of wining and dining an out-of-town salesman, Luke Kayenta, Kitty's world is turned upside down overnight.
Luke isn't like Jack's usual salesmen. In fact, Kitty's certain he's much more when she secretly watches him perform a strange ceremony on the eighty-sixth floor of the Empire State Building.
Unbeknownst to Kitty, Luke has come for her. Charged with delivering a deathbed letter from Philippe, Luke is drawn to more than Kitty's grief. Beyond his promise to deliver the smuggled letter, the stories Philippe shared of his beautiful dark-haired wife helped Luke escape his imprisonment in Spain and brought him halfway around the world to find her. Now that he's found her, he doesn't want to let her go, despite the danger surrounding him.  Kitty follows his reckless path through the twisting, wartime streets of New York, but will their newfound love be able to protect them from Luke's pursuers?
The rebirth of Luke's tormented soul is the real jewel in this novel, book two of the Code Talker Chronicles. Luke isn't a Spaniard as Kitty's been told but a Navajo code talker, and he's keeping more secrets than the forbidden letter. Tortured in Spain at the hands of Nazis, Luke has yet to truly escape his persecutors and have his mind released to live–and love–again.
Luke yearns for the simple life of a rancher back in his home state of Arizona. His invaluable work in the intelligence service has cost him more than a pound of flesh, but his chance at love and life with Kitty, his continual inspiration, is built upon a fragile ledge of espionage and the memories of her heroic husband, and now the woman he loves is charged with the task of testing whether his very mind has been compromised.
In a world of half-truths, crooked policemen, spies, and impersonators, the real question is who to trust. Watch Over Me shows a lively caricature of 1940s New York spinning wildly in the madness of espionage, where secrets and sacrifices threaten the bond of love and the hope of family.
Watch Over Me by Eileen Charbonneau won First Place in the 2017 CHATELAINE Awards.