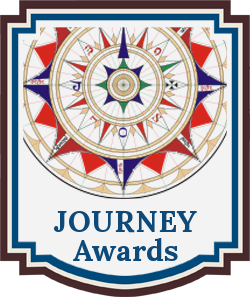 The Journey Book Awards recognize emerging new talent and outstanding works in the genre of Narrative Non-Fiction and Memoir. The Journey Book  Awards is a genre division of Chanticleer International Book Awards and Novel Competitions (CIBA).
These titles have moved forward in the judging rounds from the Shortlist to the 2018 Journey Book Awards Semi-Finalists.  First Place Category winners and the Journey Grand Prize winners will be selected from the Semi-Finalists and the winners will be announced at the Awards Banquet and Ceremony on Saturday, April 27th, 2019.
Chanticleer International Book Awards is looking for the best books featuring true stories about adventures, life events, unique experiences, travel, personal journeys, global enlightenment, and more. We will put books about true and inspiring stories to the test and choose the best among them.
These Semi-Finalists titles are in the running for the 2018 JOURNEY Book Awards First Place Category Positions and the Journey Grand Prize Book Award for the Narrative Non-fiction Fiction and Memoir CIBA Awards. Good Luck to all of the 2018 CIBA Journey Semi-Finalists!
Sean Dwyer – A Quest for Tears: Overcoming a Traumatic Brain Injury
Philip Muls – Mind on Fire: A Case of Successful Addiction Recovery
Andrew Jurkowski and Lisa Wright – Between The Swastika and the Bear: A Polish Memoir 1925 – 1948
Janice S. Ellis – From Liberty to Magnolia: In Search of the American Dream
Kayce Stevens Hughlett – SoulStroller: experiencing the weight, whispers, & wings of the world
Liberty Elias Miller – The Heart of the Runaway
Jeff O'Driscoll, MD – Not Yet
GySgt L Christian Bussler – No Tougher Duty, No Greater Honor – a memoir of a Mortuary Affairs Marine
Terry Milos – North of Familiar: A Woman's Story of Homesteading and Adventure in the Canadian Wilderness
Dennis M. Clausen – Goodbye to Main Street
Russell Vann – Ghetto Bastard, A Memoir
Rebecca Brockway – Miss Matched at Midlife: Dating Episodes of a Middle-Aged Woman
Donna LeClair: Waking Reality – Overcoming the Heartache of Abuse
Austin M Hopkins – The Loose Ends Became Knots
Janis Couvreux – Sail Cowabunga! A Family's Ten Years at Sea
Katrina Shawver – HENRY: A Polish Swimmer's True Story of Friendship from Auschwitz to America
Joy Ross Davis –

 

Mother Can You Hear Me?
Cheryl Hughes Musick – The Day the Musick Died
Good Luck to each of you as your works compete for the JOURNEY Book Awards First Place Category  positions. 
The JOURNEY Grand Prize Winner and the Five First Place Category Position award winners will be announced at the April 27th, 2019 Chanticleer Book Awards Annual Awards Gala, which takes place at the Chanticleer Authors Conference that will be held in Bellingham, Wash. 
We are now accepting submissions into the 2019 JOURNEY Awards writing competition. The deadline for submissions is April 30th, 2019. Please click here for more information. 
As always, please do not hesitate to contact us with any questions, concerns, or suggestions at Info@ChantiReviews.com.