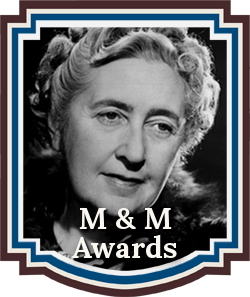 The M & M Book Awards recognize emerging new talent and outstanding works in the Cozy and Not-So-Cozy Mystery genre.  The M & M Book Awards is a genre division of the Chanticleer International Book Awards (The #CIBAs).
These titles have moved forward in the judging rounds from Long Listers (Slush Pile Survivors) to the SHORTLIST and have now moved on to the SEMI-FINALISTS list of the 2018 M & M Book Awards. These entries are now in competition for the limited  First Place Category Positions for the 2018 M & M Book Awards. The M & M Book Awards Semi-Finalists will be recognized at the 2019 Chanticleer Authors Conference. The First Place Positions along with the M & M Grand Prize Award Winner will be selected from this Semi-Finalist list and will be announced at the Awards Gala on Saturday, April 27th, 2019.
We will make the SEMIFINALISTS Digital Badge and Book Stickers available before the end of November 2018 and will email the link and the Semi-Finalist notification to those whose works made the list.
Chanticleer Book Reviews is looking for the best books featuring "mystery and mayhem", amateur sleuthing, light suspense, travel mystery, classic mystery, British cozy, hobby sleuths, senior sleuths, or historical mystery, perhaps with a touch of romance or humor, we will put them to the test and choose the best among them. (For suspense, thriller, detective, crime fiction see our Clue Awards)
Deadline for 2018 M & M Book Awards submissions was April 30, 2018. We are now accepting entries into the 2019 M & M Awards.
Congratulations to the 2018 M & M Book Awards Semi-Finalists!
Mary Adler – Shadowed by Death: An Oliver Wright WW2 Mystery Novel  
B.L. Smith – Bert Mintenko and the Minor Misdemeanors    
Charlotte Stuart – Why Me?  
Becky Clark – Fiction Can Be Murder  
Christine Evelyn Volker – Venetian Blood: Murder in a Sensuous City   
Alan Chaput – Savannah Sleuth  
Michelle Cox – A Promise Given  
Traci Andrighetti – Campari Crimson   
M. Louisa Locke – Pilfered Promises: A Victorian San Francisco Mystery  
C.A. Larmer – Evil Under The Stars: The Agatha Christie Book Club  #3   
Nancy J. Cohen – Hair Brained  
Stone Winkler – Blood on a Blue Moon: A Sheaffer Blue Mystery  
Carl and Jane Bock

 

–

 

Death Rattle  
Kelly Oliver – FOX: A Jessica James Mystery  
Deborah Rich – Under the Radar  
Anna Castle – Moriarty Takes His Medicine  
Julie Chase – Cat Got Your Secrets  
All Semi-Finalists will receive high visibility along with special badges to wear during the Chanticleer Authors Conference and Awards Gala.

Congratulations to the Semi-Finalists in this fiercely competitive contest! 
Good Luck to each of you as your work competes in the 2018 M & M Book Awards. 
We are now accepting submissions into the 2019 M & M Awards writing competition. The deadline for submissions into the 2019 M & M Book Awards is April 30th, 2019. Please click here for more information and to enter.
As always, please do not hesitate to contact us with any questions, concerns, or suggestions at Info@ChantiReviews.com.