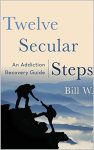 Publisher: Beowulf Press, LLC (2018)
Buy the book now at:

Amazon
If you're familiar with Alcoholics Anonymous, then you've heard the phrase, "One day at a time," "Keep it simple," and "This too shall pass" – slogans designed to help the alcoholic resist the urge to drink. Borrowing another popular AA slogan, "Take what you need and leave the rest," alcoholic Bill W. (not the co-founder of AA) lays out his version of the AA steps in Twelve Secular Steps: An Addiction Recovery Guide.
A biologist with a Ph.D. and 20 years in research and education, Bill W. knew he needed help with his addictions. He followed the AA program but was uncomfortable with the "God" language, so he created his own path, rejiggering the steps as a secular version shifting the focus from a "Higher Power" to himself. In Chapter 1, he explains his critical moment: "I froze when I looked into the mirror, for I didn't recognize the face looking back. The veil of denial was lifted, and I saw clearly what I had become: a pathetic addict, slowly killing myself day by day. I realized that the problem, truly, was ME."
Unfortunately, some folks who enter "the rooms" of AA or other 12-Step recovery programs are turned off by the spiritual connection required. In this thought-provoking and well-designed guide, Bill W. tries to show that by altering the faith-based language of the traditional AA steps, there is incredible value for anyone wanting to get a grip on their addiction. The latter part of the book is devoted to the design and implementation of such a plan, getting the addict or alcoholic to build 90 days of sobriety.
Twelve-Step recovery was introduced in 1939 when Bill Wilson published a primary text Alcoholics Anonymous, often called "The Big Book." Of course, detractors have argued that the secular version is not considered the AA program, but Bill W. (author of this book) knew the value of the work as he was surrounded by alcoholics and addicts who desired a non-religious version or pre-existing relationship with God.
Drawing from his science and medical background too, Bill W. devotes an entire chapter to the Biology of Addiction, showing an illustration of how dopamine affects the brain and explaining how the brain's limbic system and frontal cortex change significantly during an addiction spiral.
The conversational tone peppered with personal anecdotes from the author's life makes for an easy read. After reviewing the 90-day plan and how to work the traditional steps with a secular flair, this reviewer had hoped the author might supply a final word of encouragement. Instead, Twelve Secular Steps ends with a challenge, which when all is said and done, is appropriate.
This book is intended for anyone uncomfortable with the religious aspect of AA's fundamentals yet ready to take personal responsibility for their recovery. Bill W. assures his readers that the three ingredients to successful recovery are adhering to a "One day at a time" attitude, following the steps and leaning on a support network of family and friends.
Twelve Secular Steps is an alternative path rooted in the individual rather than God has been helpful for some recovering addicts assembling a recovery toolbox. Friends and family members with a loved one suffering from addiction can also benefit greatly by learning how gut-wrenching yet wonderful the lifelong path of recovery can be.