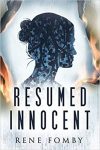 Publisher: Book Ness Monster Press (2017)
Buy the book now at:

Amazon
Author's Website
Rene Fomby's gripping novel, Resumed Innocent, is both a courtroom drama and a personal drama. In the book's forward, Fomby tells readers that the story is "semi-autobiographical," noting that as a criminal law attorney, he has found that "The reality of day to day criminal practice in Texas is simply too unreal to be believed."  And, yet, he manages to convince the reader of the gruesome reality of crime scenes as well as the harsh reality of courtroom politics.  The guilty aren't always those being held in jail cells; attorneys and judges don't escape Fomby's scrutiny, and the reader is made aware of just how complicated criminal law in Blair County, Texas, truly is.
Fomby opts for a female protagonist to relay what's just and unjust in a criminal law attorney's daily life. Samantha Tulley, Sam for short, a widow with a small daughter, is as sharp as they come. She's savvy enough to detect when a defendant is being railroaded or a judge is being underhanded. Her intelligence and wit, however, put her at risk for reprisals, acts of vengeance that will put her life at risk and have the reader turning pages as quickly as possible to keep up with a plot that escalates with action and suspense.
Her clients, people accused of heinous crimes, are beyond fortunate to have Sam representing them. She defends a woman accused of plunging a knife into her former boyfriend multiple times and a man accused of murdering his wife and two small children. In one of the most riveting chapters of the book, the reader observes voir dire, jury selection, and witnesses Sam calculating who will and won't support her client, all the while maintaining an expression that would sink her most formidable opponent at the poker table. This chapter alone would make the book a worthy read, but it's packed with fascinating nuggets of courtroom drama throughout.
Sam's personal life is equally fascinating but also fraught with danger. Her deceased husband was the son of an eccentric member of the Catholic Traditionalist Movement, a group that rejects Vatican II and believes mass should be celebrated only in Latin. William Tulley didn't approve of his son's marriage to Sam, a Jewish woman, and is now demanding that a paternity test to be done on Sam's young daughter. His first wife, Luke's mother, resides in Italy and holds information that will enlighten Sam as to her father-in-law's motives. Sam has enough enemies, in and out of the court system, to keep the reader guessing who is attempting to harm – even kill her. She has an advocate, however, in Harry, her intern who is a law student at Baylor University and whose family has had their own run-ins with Sam's father-in-law.
This book will certainly appeal to lawyers and law students, but also to anyone who loves a good courtroom drama. It's also for readers drawn to strong female characters. Sam Tully is a working mother, a widow, an advocate for the wrongfully accused, and the friend you've always wanted.  You'll finish this novel eager to continue her adventures in a forthcoming book.