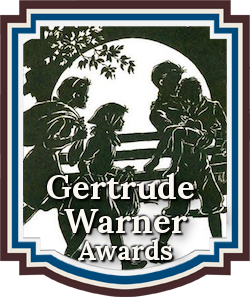 The Gertrude Warner Book Awards recognize emerging new talent and outstanding works in the Middle-Grade Readers Children's books division. The Gertrude Warner Book Awards is a genre division of the Chanticleer International Book Awards (The #CIBAs).
These titles have moved forward in the judging rounds from Long Listers (Slush Pile Survivors) to the SHORTLIST and have now moved on to the SEMI-FINALISTS list of the 2018 Gertrude Warner Book Awards.
All Semi-Finalists in attendance of the Chanticleer Authors Conference and CIBA ceremony will receive special name-tag ribbons to wear during the conference and will be recognized.
The limited  First Place Category Positions for the 2018 Gertrude Warner Book Awards will be selected from the  Semi-Finalists and will be announced at the 2019 Chanticleer Authors Conference CIBA Ceremony and Banquet on Saturday, April 27th, 2019.
Deadline for 2018 Gertrude Warner  Book Awards submissions was May 31, 2018. We are now accepting entries into the 2019 Gertrude Warner Awards.
We looking for the best books featuring stories of all shapes and sizes written to an audience between the ages of about eight to twelve. Science Fiction, Fantasy, Mystery, Paranormal, Historical, Adventure. Our judges will put them to the test and select the best Middle-Grade Books among them.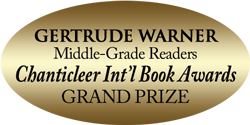 Chanticleer Book Reviews discovers today's best books!
Congratulations to the 2018 Gertrude Warner Book Awards Semi-Finalists!
Aric Cushing – Vampire Boy
Alexander Edlund – Keelic and the Pathfinders of Midgarth
M. P. Follin – Dakota Joy and the Traveling Stones
Joanna Cook – The Life of Bonnie Dickens
Victoria Adler – Emma and Mia
Cheryl Carpinello – Guinevere: At the Dawn of Legend
K. B. Shaw – From the Shadows
Jules Luther – The Portals of Peril 
Diane Rios – Bridge of the Gods
Kay M. Bates – The Adventures of Rug Bug: The Revolution
Gloria Two-Feathers – Tallulah's Flying Adventure
Thank you to all who entered their works into the 2018 Gertrude Warner Book Awards. It is always tough to decide which titles move forward and which ones must fall away. Thank you, again, for participating.
Good Luck to each Semi-Finalist as your work competes in the 2018 Gertrude Warner Book Awards. 
We are now accepting submissions into the 2019 Gertrude Warner Book  Awards writing competition. The deadline for submissions is May 30th, 2019. Please click here for more information and to enter.
As always, please do not hesitate to contact us with any questions, concerns, or suggestions at Info@ChantiReviews.com.