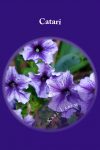 Publisher: Karl Larew (2018)
Buy the book now at:

Amazon
Maxwell Roux introduces us to his story with a Prologue, beginning with a minds-eye picture of a grand house in New Orleans. It is a soft, blossom-scented spring evening. From his hiding place behind a tree, he sees Catari step out on the wrought-iron balcony, fan in hand. Her gown is unbuttoned at the top, revealing her pale complexion glowing in the moonlight, contrasted by her dark-brown eyes and hair. Max had flown down from New York late that afternoon to surprise her, but he chooses to enjoy her beauty from the solitude of the dark garden for a moment before their blissful reunion ensues—marred only by the unpleasant gaze of her step-father.
This sketch is now a memory of what had been a happy engagement—until Max unforgivably accused Catari of having an ungrateful heart, as Enrico Caruso sang of in "Core n'grato," a song both of them knew and loved.
The story begins when Max is called to another grand house, in Fontano, Italy, the home of Catari's beloved Gran'papa, Il Barone di Fontano. He hears the Requiem Mass sung by a local choir at the funeral of his beloved Catari—only 27 years old—and sees her casket placed in the Fontano Crypt on the grounds of the family villa. It is there that he hears the gossip that Catari was drunk when she fell into the pool at 2:00 AM, as well as the comment by her step-father, Hugh Fontane, that Max, as nothing but an "ex-boyfriend," has no right to be present. But the Baron had invited him to come, and then to stay at the villa. Later that evening, he and Max talk as friends about their beloved Catari. Max had visited the villa with her several times, and the two men like and trust each other. Finally, fatigue sends them to bed—Max in the room where he had slept before.
Max awakes at 2:00 AM, somehow urged to go to the pool. He senses Catari's presence and hears her voice, "I did not want to die. I did not want to die like this." He hears his own voice, "I'll find out…how and why, Catari."
Thus is this sad love story transformed into a murder mystery, its solution sought by Max, Darlene (Catari's close friend), and the Baron. Larew's tale is filled with family history, dating back to the Fontane brothers who fought in Napoleon's Army in the conquest of Lombardy and were rewarded with the land on which the villa stands; the Fontano brothers who served in the Italian Resistance during WWII; and the Fontano family's current history in the making. The Three Musketeers, as they decide to call themselves, question the servants and several villagers and search the property inside and out. They engage the help of the family doctor, who had examined the body and found a lesion on the back of Catari's head. The doctor does not believe that she was drunk. They work with the Chief of Police, who is intrigued when he learns about the pilfering activities of the servants.
As he has done in previous books of greatly different natures—their characters ranging from WWII military families to Good and Bad vampires—Karl Larew skillfully brings his characters to life. In Catari, he artfully draws not just their natures, but oddities of their physical features, speech, and movement, such as town gossip Madame Cavalli, who finally runs out of words, and the rude and overbearing Hugh Fontane, bursting into the villa declaring that he will have the Baron declared incompetent, thereby revealing his own incompetence. Larew's knowledge of military history stands him in good stead, as well.
Max fulfills the poolside promise he made to the ghost of Catari, to "find out…how and why," but I won't spoil the how and why for the reader. Nor will I tell you what happens to the Three Musketeers. I'll say only that, for many reasons, this book offers a good read.