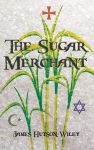 Publisher: New Generation Publishing (2018)
Buy the book now at:

Amazon
Narrated by a boy who grows up in a monastery and is trained to be a spy, The Sugar Merchant is set in the late 11th Century when the Great Crusades were on the verge of erupting in Europe and the Middle East.
When Thomas is forced to flee after rebels attack his family, he is finally discovered, ragged and starving, by a giant of a man named Leofric. Taken under the wing of the monks at Eynsham Abbey, Thomas is educated while accepting the strict discipline of the Benedictine order. In his late teens, he is surprised and disappointed to learn he will not join the Order but will be employed as an agent and spy. His task will be to find, secretly copy and send back manuscripts written by Islamic scholars. These documents contain knowledge that the Catholic Church needs to maintain its control.
Accompanied by Leofric, who taught him the arts of war based on his own checkered past as a mercenary, Thomas travels to Spain, to the city of Granada (called Gharnatah at the time). His travels will take him through the known Catholic realms and beyond, and, paradoxically, afford him the chance to meet, befriend and be aided in the abbey's mission by good men of other faiths, both Muslim and Jew. As a cover for his work for Eynsham, he adopts a persona as a merchant of sukkar, or sugar, a commodity that will soon have excellent trading value. When a beautiful Muslim girl crosses his path, all that he has been taught will come into question as he strives to do what he believes to be right.
James Hutson-Wiley writes about places he knows, having traveled in the Near East and Europe in his career in international finance. And he has obviously done extensive and intensive historical research to compose this multi-layered story. The plot, and Thomas's peregrinations through it, encompasses subjects as vast and diversified as the burgeoning sugar trade to the hierarchy of the Catholic Church.
The author paints a vivid picture of such ancient places as Lundenburh (London), Al Mariya (Almeria) and Granada. But he has also created an empathetic hero in the young Thomas who, without the burden of bias though mindful of his moral duty, is able to see beyond religious differences and choose genuine friendships with people of other beliefs.
The Sugar Merchant combines medieval lore with adventures on land and sea, stirring romance, arcane information about daily life in Europe in with the time frame, and all-encompassing religious tolerance that has significance for today's world.