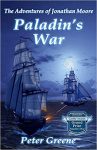 Publisher: Amazon Digital Services (2017)
Buy the book now at:

Amazon
Author's Website
The magic of living in 19th century England comes to life in the early chapters of Peter Greene's delightful, but also exciting, story—with British Navy Midshipman Jonathan Moore and daughter of the Governor of the Bahamas, Delain Dowdeswell, enjoying the fashionable new treat of ice cream, then joining their friends and family members at the boat race in Dover on a beautiful day. Granted, that wasn't how everyone lived, and even these special few lived daily lives far less comfortable than do most ordinary people today. But they didn't know that.
Jonathan is the son of Admiral Nathaniel Moore, who had been imprisoned in France during the Napoleonic wars. This happenstance orphaned the boy, who lived a sorry few years on the streets of London until he was found by his father's friend, Captain Walker. The admiral was eventually rescued, and he and Jonathan were reunited. Delain and her sisters, Penelope and Rebecca, had been sent by their parents to live with the Walkers, who, with the help of Barbara Thompson, were tasked with teaching the sisters to become ladies. That seems unlikely for the irrepressible, fourteen-year-old adventuress, Delain, who once stowed away on the HMS Poseidon, from which she fired more than one cannon shot in battle!
Shortly after the race at Dover, however, the young midshipman, also fourteen, boards the HMS Paladin, along with his former street friend Sean Flagon, soon to become a Marine captain, board the HMS Paladin, leaving their friend Delain behind as they head straight into an adventure way beyond their expectations. Not surprisingly, Delain soon finds herself in a spy adventure right in London. And perhaps not so strangely for these three musketeers, their adventures overlap.
Greene paints not only the scenes in London but those on the Mediterranean, the Adriatic, and even the Black Sea with vivid color and action. He allows us to experience life on the sailing ships of His Majesty's Royal Navy, telling us what the officers and crew wear, what they eat, where they sleep, how they talk, and especially what they do. As Peter Greene writes in his Acknowledgments, he "hoped to create a series that would capture the excitement and thrill of being on one of His Majesty's wind-powered warships in the [Lord] Nelson era."
The action on the HMS Paladin, as well as her sister ship, the HMS Echo, mostly unbeknownst to each other, rise to a fever pitch as they find themselves engaged in an explosive battle not with the French, but with the Russians and even the Turks! As you might guess from the overall tone of Greene's story, the British, at least most of them, live to return to England.
This book was such fun to read. I'm hoping Peter Greene will give us a Book Four. Meanwhile, those who haven't read Books 1 and 2 of The Adventures of Jonathan Moore, Warship Poseidon, and Castle of Fire, as well as a number of earlier books, will have some good reading to tide them over.