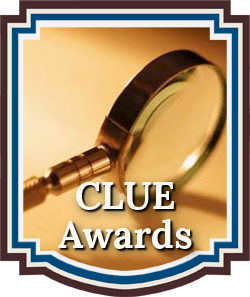 The CLUE Book Awards recognize emerging talent and outstanding works in the genre of Suspense, Thriller, Crime, & Mystery Novels. The CLUE Book Awards is a genre division of the Chanticleer International Book Awards (The CIBAs).
Information about the #CIBAs Long Lists, Short Lists, and Semi-Finalists Announcement Rounds.
These titles have moved forward in the judging rounds from SLUSH pile to the 2018 Long List (aka the Slush Pile Survivors) to the SHORTLIST and have competed for the 2018 CLUE SEMIFINALISTS  positions.
These titles are in the running for the First Place Category Winner positions of the 2018 CLUE Book Awards novel competition for Suspense, Thriller, Crime, and Mystery Novels. Good Luck to All!
The First Place Category Winners will be announced at the Chanticleer Awards Banquet and Ceremony. The First Place Category winners will automatically be entered into the CLUE GRAND PRIZE AWARD competition.  The 16 CBR Grand Prize Genre Winners will compete for the CBR Overall Grand Prize for Best Book and its $1,000 purse. First Place Category and Grand Prize Awards will be announced and recognized at the Chanticleer Awards Banquet and Ceremony on Saturday, April 27th, 2019, Bellingham, Washington.
All Semi-Finalists will receive official notification by email and will be tagged in a Facebook Announcement and promotion—if they are following Chanticleer Reviews on Facebook. Facebook will only allow us to tag those who follow CR on FB. Click on this  Semi-Finalist badge link to the downloadable digital badge and for information about Semi-Finalists book stickers.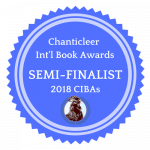 The Official 2018 CLUE Book Awards Semi-Finalists:
Lauren E. Rico – Reverie (Reverie Trilogy, Book 1)
Pamela Beason –

 

The Only One Left
Timothy Burgess – California Son
Philip Derrick – Facing The Dragon
Cheryl L. Reed – Poison Girls
E. V. Stephens – Shortcuts
Nick Airus – The Manifesto Murders
Lawrence Verigin –

 

Beyond Control
Melodie Hernandez –Forgotten Rage
Zach Fortier – Chakana
Nicholas Kellum –

 

Briar Falls
Elaine Williams Crockett – Do Not Ask
Carl and Jane Bock –

 

Swamp Guide
Timothy S. Johnston – The War Beneath
Dan Portillo – The Lone Escapist
Karen Dodd –

 

Scare Away the Dark: A Stone Suspense
Saralyn Richard – Murder in the One Percent  
John Stafford – Prayer of Vengeance
Ernesto H Lee –

 

Out of Time
Paul McHugh – The Blind Pool
Marilynn Larew – Hong Kong Central
Ken Malovos –

 

One Night In Amboise
Lyle Howard –

 

A Trace of Revenge
All SemiFinalists will receive high visibility along with special badges to wear during the Chanticleer Authors Conference and Awards Gala.
The CLUE Grand Prize Winner and the First Place Category Position award winners will be announced at the April 27th, 2019 Chanticleer Book Awards Annual Awards Gala, which takes place at the Chanticleer Authors Conference that will be held in Bellingham, Wash. 
We are now accepting submissions into the 2018 CLUE  Book Awards writing competition. The deadline for submissions is September 30th, 2019. Please click here for more information. 
As always, please do not hesitate to contact us with any questions, concerns, or suggestions at Info@ChantiReviews.com.