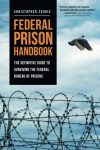 Publisher: Middle Street Publishing
Buy the book now at:

Amazon
Author's Website
In the Federal Prison Handbook-The Definitive Guide to Surviving the Federal Bureau of Prison, Christopher Zoukis has meticulously identified, collected, and organized a compendium of information regarding life in federal prison. Zoukis' straightforward writing, free of personal bias or opinion, is neither mysterious nor titillating—reality is not sensationalized—it's not fiction, it's the facts.
However, if through some twist of fate, you or a loved one finds yourself in the unthinkable situation of going to prison, it may become the best book you've ever read.
Consider. You've been sentenced to serve time in one of the Federal Bureau of Prisons' 125 stand-alone facilities, a private contract facility, or a satellite prison camp scattered throughout the United States. You, who need directions to find your way through Costco to the deli, must now enter an unfamiliar world with its own lexicon, rules, and consequences. How will you survive?
As a thirty-year-old federal prisoner, incarcerated since he was a high school senior, Zoukis speaks authoritatively to that question—and other issues you haven't even considered—and, why would you, with no previous experience or points of reference.
Zoukis has created a comprehensive guide to seemingly all aspects of prison life—from entering the front doors to the time you leave. He provides annotated, specific information regarding life in this mandated setting, a community which exists within both real and figurative walls. Its written and unwritten rules allow little latitude for divergent behavior or personal desires. And, perhaps equally important, Zoukis delineates the unique customs and unwritten social mores of prison culture.
Each handbook section cites and explains rules and regulations in detail, as well as providing practical tips, based upon the author's experiences, observations, and information garnered from extensive interviews of fellow prisoners.  The Federal Prison Handbook disabuses some of the sensationalism created by fiction, tell-alls, and media in general, regarding sexual abuse, gang violence, power hierarchies, and such. The topics are objectively elucidated within the context of the prison rules, consequences, and the overall prison culture.
Unlike many popular "survival" books, the Federal Prison Handbook will probably not give the reader an emotional rush or provide an epiphany regarding the meaning of life. However, it could prove invaluable to counselors, lawyers, families, and individuals who find themselves facing incarceration in the federal prison system.
Federal Prison Handbook-The Definitive Guide to Surviving the Federal Bureau of Prison won First Place in the Instruction & Insight Awards in 2017.