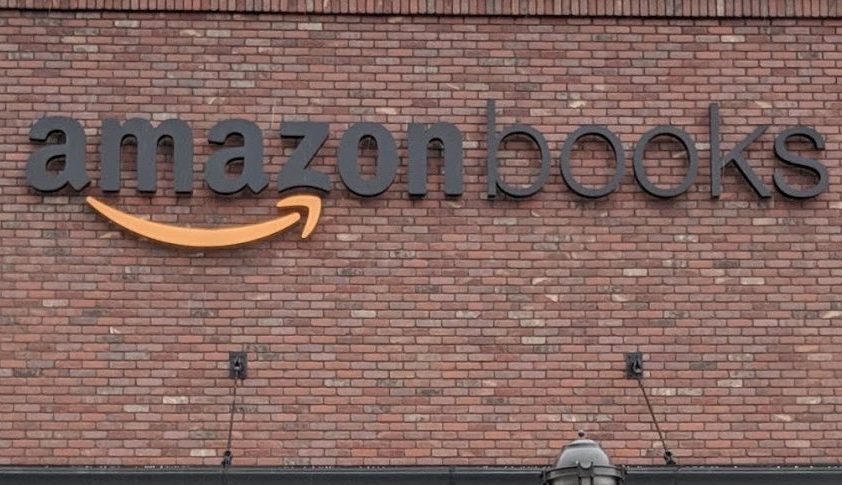 Aren't you curious? About the AmazonBooks stores?
I certainly was!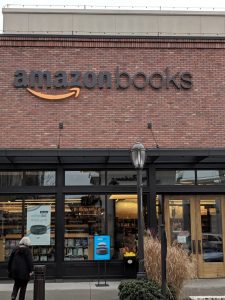 I have heard of the Amazon Books stores, but living in Bellingham, a little city north of Seattle in the Pacific Northwest, I haven't had the opportunity to visit one. And Bellingham probably does not have the demographics to support one and probably never will. We don't even have that many chain stores—no Banana Republics here,  nor P.F. Chang restaurants.
However, and more importantly, we do have two Village Books stores in the county.
Village Books is an Independent Bookseller that Publisher's Weekly rated as #5 Indie book store in the U.S.A. and they have opened a second location in Lynden, Wash.
Nevertheless, I was still very curious about Amazon's new brick and mortar bookstore concept—the antithesis of what I thought Amazon was all about.
What does it look like? Does it have author readings? Does it have author signings? Does it promote Indie authors or bestsellers? Will it have that cozy bookstore feel that I love to lose myself in for hours?
Or would it just feature its own 15 imprints: Thomas & Mercer, Lake Union, Montlake Romance, 47North, Topple, and so forth?
So many questions! 
I promised myself that the next time I go Seattle I would seek out an Amazon Books store to quell my curiosity.
For those not in the know or have been without news, the Amazon empire is the most valuable company in the world and like Microsoft, is based out Seattle. Amazon is currently valued at over one trillion dollars (USD)—that is a lot of zeros. $1,000,000,000,000,000—I  think that is enough zeros…
The Amazon Books store I decided to visit is also the very first physical storefront of Amazon and is located in a shopping center in Seattle that is known as the University Village located in the neighborhood of Ravenna. It opened on  November 3, 2015.
Also, in the shopping center are other "temples to tech"  (as my husband, Argus, calls them) such as a Microsoft store, an Apple Store, three Starbucks (yes, three), a TESLA showroom, a b8ta retail store (get it? Beta) that specializes in the latest in tech products, along with other high-end retail stores such as a top-tiered make-up and skincare lines—oddly named (imho)— BlueMercury.  (imho– "tech speak for "in my humble opinion").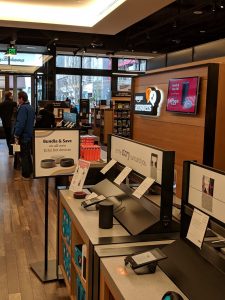 From my online reading, I discovered that Amazon has opened 17 bookstores with another three in the planning stages.
Since Amazon is the largest seller of books in the world, I thought their journey into brick-and-mortar bookstores would be of interest to authors.
What did I learn from my Amazon Book Store visit?
The book store was very organized and neat. And very quiet. Aisles were big enough for strollers, and there was a children's area at the rear of the store that was more brightly lit.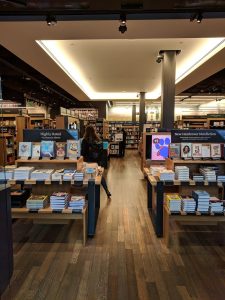 The center of the store was filled with the latest Alexa gadgets, Kindle readers, and etc.
And there were huge video screens playing video-clips. I found the large screens playing videos to be very distracting and not very bookstore-ish (imho).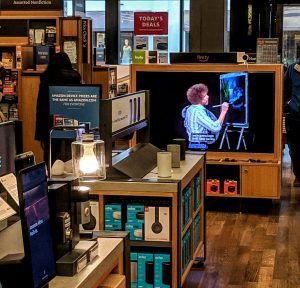 I walked the aisles of books labeled "Fiction" or "Non-fiction" alphabetized by authors.
What I saw were tall rows and rows of the best-sellers. I then started to look for a few of my favorite Indie authors—no luck there. Next, I then looked for some of my favorite traditionally published authors only to find just a title or two.
I thought that the reason Amazon started the Amazon Books stores was to showcase authors and small publishers who published with them along with their own imprints. I even remember some Facebook posts where Indie authors were excited to see their books in print and face out on the shelves of the Amazon Books stores.
But that was not the case that day in early January 2019 when I checked out this particular store.
I thought then that perhaps there was a section just for Indie authors, so I decided to find a staff member to ask this question. Maybe I just haven't found the section yet. But, I was told that there wasn't a special section for Indies and that the store generally tried to stock the best-sellers on the shelves.
I was becoming increasingly frustrated.
I then asked the staff member if there was a section for Pacific Northwest authors. You know, since the PNW is known for being home to a lot of famous authors such as Robert Dugoni, Jim Lynch, Jamie Ford, Garth Stein, Cat Rambo, J.A. Jance, Chelsea Cain, etc.
I was shown this small section (see photo below).
Yep, that little round display tower was it—about 12 titles from "Bong (yes, Bong) Appetit" next to Jamie Ford's most excellent "Love and Other Consolation Prizes" at the Amazon Books store.
Certainly, they must have J.D. Barker's books. I have seen them for sale in Paris, Lisbon, Frankfurt, Los Angeles, etc.  But I didn't see any.  So I asked, the staff member didn't know who J.D. Barker was, but he did check the computer records for Barker's books. He told me that they did have The Fourth Monkey in stock last week.
I didn't see any comfy areas for reading or hanging out. Or perhaps, I just didn't see them…because of the orderliness of the store.
The photo above was taken by leaning over the staircase at Village Books. 
I didn't see any "shelf-talkers" or posters promoting the next author event like the ones that I see at Village Books. See photos below.
What are the bottom line take-aways of my research trip to Amazon Books store?
Amazon Books exist for Amazon Prime Members. As do the Amazon Go stores & kiosks where no money or credit cards are taken and there are not any cashiers. Amazon Go can tell if you want to purchase something and automatically charges your credit card. Here is a link if you want to check out the Amazon Go stores.
Amazon Prime members spend approximately thirty percent more than non-prime members in shopping at Amazon. That is significant! No wonder Amazon wants to keep them as prime members and will make it as easy as possible for them to shop.
Indie authors do benefit from having their books available on Amazon to reach the North American market — especially digital and audiobooks. There is no question about that.
But Indie authors should realize that Kobo/Rakuten is where the rest of the world shops for digital and audiobooks.
Scribd (the Netflix of publishing) is acquiring subscribers at an accelerated rate. Scribd focuses on digital books and magazines along with audiobooks that can be downloaded. Indie Authors and Small and Medium presses should check out Scribd as a distribution platform to reach new readers.
And the #1 Take-Away is: 
Authors should support your local Independent Booksellers wherever you live and wherever you visit—whether or not if you traditionally published, Indie published, or small press published because it will the Independent Booksellers that will introduce you to their clientele, book reading groups, and will host your author signings and author events.
Independent booksellers are where you will build your grassroots readership.
Independent booksellers will give your books a place to be displayed.
Independent booksellers will give your books a chance — if a title sells 4 books a year, there is an excellent chance they will continue to stock and allow retail shelf space to your book.
Independent booksellers will host your author signings and events.
Below is a photo of a Village Book's author event.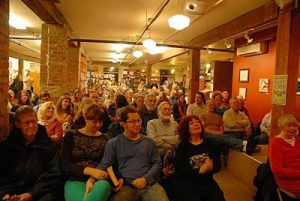 Long live Independent Booksellers! They are community support for authors at all stages of their writing careers.
Also, Village Books manages the BookRoom for the annual Chanticleer Authors Conference and promotes the award winners from the Chanticleer International Book Awards.
Would Amazon do that? 
Yes, Amazon is necessary and is beneficial for authors and publishers. There is no denial of that. However, we cannot forget to support our local Independent Bookstores that build community for authors and readers.
So the next time you are about to purchase a book, remember to take and make the extra effort to shop at your local Independent Bookseller store. If you are out of town on vacation or business, make an effort to stop by the area's local bookstore.
Don't let this be the LAST BOOK STORE (Los Angeles, Calif).
Support your local Independent Bookseller!