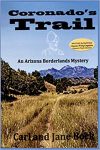 Publisher: Absolutely Amazing eBooks (2016)
Buy the book now at:

Amazon
Author's Website
An ill-fated Spanish expedition in 1541 plays into present-day concerns about preserving Santa Cruz County's (Arizona) heritage and environment. Along with an engaging yarn, Jane and Carl Bock offer the reader food for thought by presenting a microcosmic picture of the mindless destruction of time-honored customs, traditions, and mores in the pursuit of money and power.
When deputy sheriff Calvin Creede of the Sonoita substation in Santa Cruz County receives a call from Maria Obregon, the widow of Calvin's best friend, neither suspect where the call will lead.
Maria has discovered the partially exposed remains of an old pickup in the San Carlos Wash, an arroyo near her goat farm on the 40,000 acres, Rocking M cattle ranch. The vehicle had not been visible before. Nothing new there, as frequent flooding reveals items previously buried in the sand. But this seems different because Maria's dog, Boomer, is behaving as if there's something still hidden inside the cab.
Calvin's investigation of the find, from running its license plate, unearthing it, and solving a 1995 missing person case, to determining that the driver had been murdered, has a domino effect. In winnowing facts from legend and gossip, he also unearths lifelong grudges, rivalries, and broken hearts that continue to impact families in the community.
Concurrent with the murder investigation, Calvin must address the lawless behaviors of radical environmentalists, drug and human traffickers, and unethical antiquities hunters, which all, in varying ways, relate to the decades' old murder. If this weren't enough to sift through, he also must deal with his feelings for Maria, to whom he's pretty sure he's just become engaged.
Coronado's Trail contains multiple levels of storytelling and subplots, and in the Bock's skillfully crafted narrative where everything fits like an intricate puzzle. In addition to a complex and compelling plot, the authors' use of imagery adds a visceral dimension to the mood and tone that is sure to transport readers to experience the mountains shimmering in the heat, the rumble of thunder in the distance, the cooling monsoon rains… you get the picture. By the time the last page is turned and the novel complete, a kinship to Arizona's high desert will be in your bones. All this to say, after vicariously traveling Coronado's Trail, you may wish to walk it for yourselves.
Coronado's Trail took home the M&M Grand Prize for Mysteries in the 2017 CIBAs.