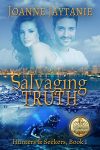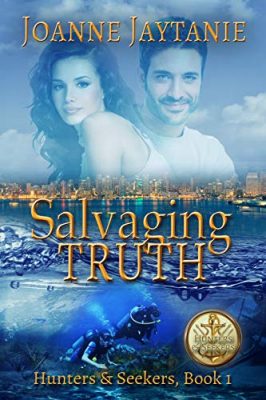 Publisher: Joanne Jaytanie (2019)
Buy the book now at:

Amazon
Author's Website
Famed marine biologist and researcher Claudia Rawlings is presumed dead. When Claudia's research vessel goes down, her daughter Riley goes on a desperate search to discover what happened, eventually turning to Dagger Eastin, co-owner of Hunters and Seekers a marine salvage business. Dagger soon realize this isn't a simple search and reclaim mission when someone takes a shot at him during an exploratory dive with Riley.
Former Navy SEALs, Dagger, and his partners Kaleb LaSalle and Stone Garrison are the definitions of relentless, and they quickly become embroiled in the investigation that has caught the attention of some very influential people, all seeking Claudia's important research. And while Riley learns that her mother has left behind clues to her missing research, the Hunters and Seekers pull out all the stops to help and protect her. The wild scavenger hunt sends Dagger and Riley on a trip to discover the truth, but Russian spies, big oil cronies, and psychopathic hitmen lurk around every corner.
Much more than a pretty face, Riley is a smart, successful female main character who refuses to wait for the official investigation patiently and as a result, faces challenge after challenge. Despite being thrust into a dangerous environment, Riley is no timid female victim. But she isn't without vulnerability, knowing instead when it is time to ask for help and rely on Dagger's expertise. Riley is a fallible protagonist with guts and brains, one with whom readers of the genre will instantly connect and admire.
The first in a series, Salvaging Truth introduces readers to three heartthrobs destined to create an immediate book crush. The men of Hunters and Seekers are not only tall, dark, and handsome, but smart, funny, and lethal. The relationship between this "band of brothers" is touching and promises a myriad of future adventures.
The touching bond these men share creates an extended-family that is almost as close as Riley is with her mother. In fact, "created families" is a strong theme throughout the novel. Riley, an only child whose father passed away some years before the novel's action, finds a family when she meets Dagger, Kaleb, and Stone. Many times, she relies on these men to not only protect her but to also provide the emotional stability she needs when she learns her mother has been killed. In her effort to salvage the truth behind her mother's death, Riley relives many important familial moments while creating this new family with Dagger.
Joanne Jataynie's Salvaging Truth (Hunters & Seekers, Book 1) won the GRAND PRIZE in the CIBAs 2019 CLUE Awards for best suspense/thriller novel.