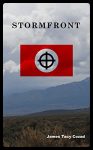 Publisher: Taos e-Book Editions (2016)
Buy the book now at:

Amazon
The billionaire and founder of Gallagher Pharmaceuticals is a bad man. His stratagem: targeted biological warfare on specific groups of people worldwide. His followers, the chosen precious few, will be immune and survive. If the plan succeeds, Gallagher will be their leader. Can this supremacist leader compel his followers to execute an evil plan of worldwide, biological murder?
Meet a retired serviceman and current rancher Finn Dalton. After the trauma he experienced in his war-time service, all he yearns for now is a peaceful life, one where he can hunt rabbits and other game animals with his buddy and fellow veteran, Sam, and their beloved band of dogs. And maybe marry his girlfriend, Kiera Utsi. This peaceful existence is threatened one day during a hunt when Finn and Sam discover a mutilated corpse out in the New Mexican desert. Needless to say, Finn believes it to be a very suspicious death. The men alert authorities, but Finn is far from satisfied with the direction or progression of the investigation.
Tension and danger mount when Finn and Kiera follow perilous leads down trails fraught with unbelievable risk, uncovering more and more about the murder and how it is connected with Gallagher Pharmaceuticals. Their questions always lead back to the man in charge: Gordon Gallagher. But who will believe their theories and accusations? And now someone is trying to kill them.
The clock is ticking as to when the deadly virus will be let loose, and neither Finn nor Keira knows if they will be immune. Moreover, they're not sure who they can confide in or join forces with. As the crisis builds, they risk fatal mistakes. Will they have to infiltrate the compound itself? Stormfront is approaching. And time is running out.
Author, James Tacy Cozad knows the territory in which his characters live, and his descriptions of the setting vividly add to the dynamic of the fast-paced plot. His knowledge of the beautiful and dangerous scenery combined with a well-researched understanding of weaponry brings to life a character that is "James Bond-like" in scope and capabilities, making this a rather fun, if not frightening, read.
James Tacy Cozad won 1st Place in the 2017 CIBAs for Global Thrillers category for Stormfront.