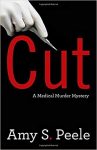 Publisher: She Writes Press (2017)
Buy the book now at:

Amazon
Author's Website
With heart, compassion, and a dash of comic relief, Amy Peele's engaging murder mystery takes us into the precarious realm of human organ transplantation. Here, as life-saving procedures become marred by money, social status, and criminal intent, a moral compass spins out of control, revealing just how far some will go to reach the top of the donor procurement platform.
Sarah Golden is a dedicated and well-respected traveling organ transplantation nurse who loves her job. She's on the final leg of a four-month contract in Miami and plans to spend her bonus check on a wild trip to Cuba with her best friend from nursing school, Jackie Larsen. Jackie's now a stay at home mom to son Wyatt, and married to Laura Calleghan, an Assistant Medical Examiner in San Francisco. When Sarah happens to overhear a conversation involving patient Amanda Stein, an obnoxious, over-indulged woman who oozes entitlement, it leads Sarah to believe this San Francisco executive didn't receive her liver transplant through the proper channels. As Sarah decides to pursue her suspicions, she also learns that wealthy Amanda is best friends with the wife of Dr. Harris Bower, the renowned head of San Francisco's Transplant Dept. who recently offered Sarah a senior position back in California.
From the back streets of Miami to the hub-bub of Chicago and the West Coast, this well-paced story plays out amidst raucous escapades of inquiry as Sarah enlists the help of her fun-loving cohort Jackie to trace the path of Amanda's donor organ. Suddenly they're attending high society charity events, performing Cuban gang bar surveillance, riding off with "Biker Bob" to a private speakeasy boasting 300 kinds of rum, and flirting with the local "Officer Handsome" to gain some lawful and necessary assistance. As Amanda's nefarious Latin boy toy gets wise to the probing, the womanizing lothario is determined to stop them. Before long, this Cagney and Lacey-esque duo are entangled in an investigation as both hunters and prey.
In a well-balanced contrast to the typically dark and somber tones of a mystery, particularly one focused on such a serious topic, Peele lightens the hard edge through the wit and humor brought by the central characters. These savvy, wise-cracking women like to imbibe and enjoy throwing out a few f-bombs to relieve stress, but have a no-nonsense attitude about their jobs, and always maintain a genuine concern for friendship and family.
With a passion for organ donation, and 35 years in the field to ultimately retire from one of the most successful transplant programs in the country, Peele is able to draw from a deep well of knowledge and experience that translates seamlessly to the storyline. From enlightenment about how recipients get their organs, and distinctions between donor types, to the backlash of gaming (i.e. moving someone up on a list) that can shut down a program, these layers of detailed information woven throughout the story bring an added richness to the texture of this well-organized narrative.
Peele also brings emotional depth to this work, not only from her own nursing background but through the feisty personalities of the sleuthing duo. They are determined to find justice and hold accountable those attempting to undermine the transplant system. From sobering board room revelations about individuals denied organs due to immigration or economic status, to the heart-wrenching toll of losing young pediatric patients, the subject matter is presented as an important, timely, and volatile issue.
Cut: A Medical Murder Mystery won First Place in the 2017 CIBAs for the M&M Awards.