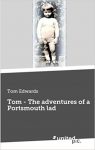 Publisher: United P.C. (2016)
Tom Edwards grew up rough and never lost his yen for travel and new adventures, as shown in this wide-ranging portrait that spans numerous years and continents.
The author depicts himself through the eyes of an omniscient observer, growing up as a sailor's son in and around the city of Portsmouth, England during the Depression era. Many scenes of his childhood speak to the poverty in which the family, his mother, sister, and brother, lived in as they rarely saw the father/husband who was mostly away at sea.
But the boy never realized they were poor until one Christmas when the better-off folk visited his neighborhood with boxes of fruit, cakes, and toys for the children. Vivid historical touches including everything from famous buildings, castles, and ships in the harbor are wrapped around childhood memories of the flannel vests slaked in camphor that children were forced to wear all winter, to the sports cards sold with cigarettes that children prized, saved and fought over. Yet despite an absent father and a mother who seemed happy to have the old man gone, Tom chose the seafaring life.
Born in 1929, Tom was accepted at Portsmouth Technical High School, and as the war was ending, he joined the Royal Navy, beginning his roving lifestyle. He was often punished in his training stint for being a daring young man, but he also managed to compete in various sports – swimming, boating, sailing, and once – but only once, boxing.
Stationed in Ireland, he was then transferred to Malta, his first experience of a truly foreign place. That was followed by years in various countries of southern Africa and finally Australia. In those years he was married, twice, had daughters whom he loved but rarely saw as his wife kept returning to England, while he couldn't bear the boredom of home for long.
He mined for semi-precious gems, learned to fly gliders, played water polo, started a camera magazine, headed a rescue team, battled and won a fight against tuberculosis, worked in a dynamite factory, sailed around the world and was shipwrecked three times, became a surveyor, a painter and ran art groups in three countries, and immigrated to Australia when independence movements in Africa began to make existence difficult for the former English colonizers.
Edwards is known for his writing, his first book compellingly titled If I Should Die, composed after he joined an anti-terrorist unit in Rhodesia. His prose is colorful and well organized, and his interjections of significant events in the world add a stirring background – the abdication of Edward VIII, the coronation of Elizabeth II, the war and all its terrors told both by the history book and from the observant memory of a growing boy in a critical seaport city. Small details overlap the larger scheme of things, including a great deal of humor surrounding young men's constant longing for, and occasional securing of, female companionship. He is careful to admit his flaws, such as his weaknesses as a husband, his incurable need to seek new adventures in new climes, and his now waning physical powers after a youth and manhood of grit and occasional glory.
Edwards has made a comfortable name for himself in several spheres, and here delivers a memoir that combines the larger historical picture and a plethora of nostalgia, revealing him as both gutsy and tenderhearted.